A while ago, I wrote about a medical student whose school tried to dismiss him just prior to graduation for unprofessional behavior.
A judge ruled that the school could not do so because it had tolerated some similar behavior earlier in his medical school career and had not considered it important enough to mention in his letters of recommendation.
In that post, I said, "'Professionalism' is difficult to define, especially when trying to do so in a courtroom."
In the comments section, a medical student wrote that he had been given a two-week suspension for unprofessional behavior for silencing his phone during an exam.
Another commenter told of several students who were caught colluding on a take-home final exam in statistics. Their punishment was that they had to agree to do their residencies at the medical school. (Digression: What does that say about the school?)
The Accreditation Council for Graduate Medical Education defines professionalism, one of its six core competencies, as follows:
"Professionalism — Demonstrate a commitment to carrying out professional responsibilities and an adherence to ethical principles."
I'm always a bit confused when the definition of a term contains the term itself, and this is no exception.
Three internal medicine foundations combined to publish a somewhat clearer definition that is two pages long, but does not mention specific behaviors like cheating on a test, falsifying a medical record, or being arrested for driving under the influence of alcohol.
The American Board of Internal Medicine Foundation produced this word cloud, which is supposed to help one better understand what professionalism is. But all it did was remind me why I hate word clouds.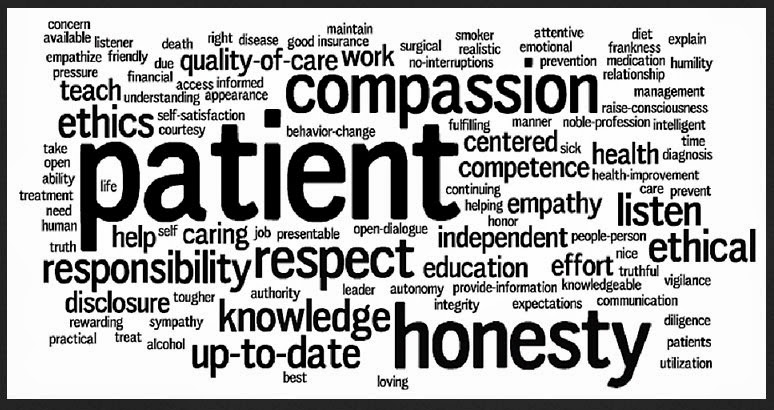 It is said to depict "words physicians most associated with medical professionalism."
If you are having trouble reading some of them, I can help. Here are a few: empathize, compassion, respect, responsibility, ethics, integrity, caring, honor.
Those sound pretty good, but here are some more: tougher, smoker, diet, sick, job, prevent, financial, good insurance, disease, death. What do those words have to do with medical professionalism?
Since we have trouble defining professionalism, we can hardly blame the judge in the case I wrote about before for ruling in the student's favor.
He said, "Although courts should give almost complete deference to university judgments regarding academic issues, the same deference does not follow university character judgments, especially on character judgments only distantly related to medical education."
I disagree with the last part of his statement. I think character judgments are strongly related to medical education, but how are medical schools and residency programs supposed to teach professionalism and assess whether their trainees possess it, if it is so ill-defined?
"Skeptical Scalpel" is a surgeon blogs at his self-titled site, Skeptical Scalpel.