The food stamp program helps over 40 million Americans pay for groceries. Unlike other forms of economic assistance, this program, called SNAP (the Supplemental Nutrition Assistance Program), only pays for food, thereby constraining how recipients make use of the aid. But are food stamps constrained enough?
SNAP recipients experience higher rates of obesity and diabetes than the general  population.  Experts estimate that SNAP recipients consume almost twice as many calories from sugar-sweetened beverages, like Pepsi and Coke, than they do from vegetables and fruits. These dismal statistics have caused some experts to use food stamps to nudge people toward healthier behavior.
But how best to nudge? And what might such nudging accomplish?
Experts are divided over whether to use carrots or sticks to promote healthier behavior in this population. A carrot-like approach would reward people for eating healthier food. Similarly, you could offer a carrot for people to, ahem, eat carrots by reducing the price of fruits and vegetables. Such subsidies for healthy food also have the advantage of leveling the playing field between healthy and unhealthy foods. Sugar and corn (the latter being used to make high fructose corn syrup) are already heavily subsidized by the U.S. government. These subsidies make sweeteners artificially cheap. Reducing the price of fruits and vegetables could address this imbalance.
Alternatively, we could use a more punitive approach by raising the price of sugary foods or even banning the use of food stamps for such purposes. This stick-like approach would have the advantage of preventing public funds from being used to subsidize unhealthy behaviors.
Which approach is better? No one knows for sure. But a team of researchers from Stanford and University of California, San Francisco have put together a simulation model to estimate the relative impact of carrot versus stick approaches. And their results suggest that banning the use of food stamps to purchase sugary beverages would have a far greater impact on people's behaviors, and on their health, than subsidizing the cost of fruits and vegetables.
A word of caution: The results of their research, since it is based on a simulation model, depend upon a whole slew of assumptions. The researchers guessed about how price changes would influence purchasing behavior, and about how likely people would be to buy sugary beverages with non-SNAP dollars, etc. Keep in mind that these assumptions were not made up out of thin air, but were based on estimates from existing data. Moreover, the researchers tested whether their findings were especially sensitive to any of their assumptions. The simulation model looked pretty robust. Nevertheless, we have to take the results with a grain of salt (but definitely should not use public dollars to purchase that salt, because that would be in poor health!).
The researchers' findings suggest that the relative impact of these alternative policies is not a close call at all. By their estimates, a ban on using food stamps to purchase sugary beverages would reduce caloric intake, decrease obesity, and lower the incidence of Type 2 Diabetes in this population.By contrast, subsidizing fruits and vegetables would have no discernible impact on any of these outcomes: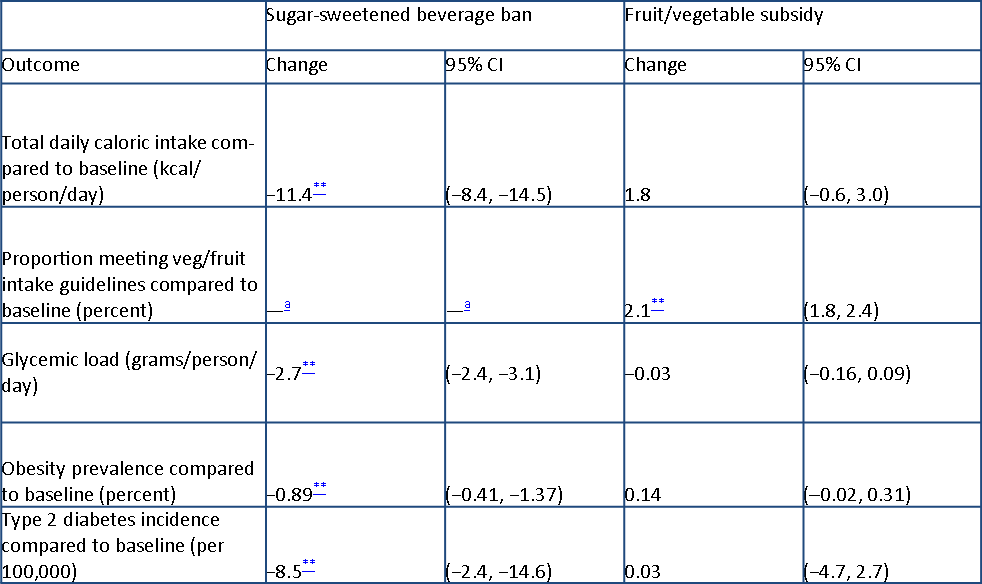 I would love for Americans to eat more fruits and vegetables. But it is unrealistic to think that the price of such foods is the main barrier to people consuming them. Let's admit it — fruits and vegetables are less immediately gratifying than processed, sugary foods. Moreover, fruits are not always ripe when you want them to be, or they become overly ripe if you do not eat them in time. And vegetables often require effortful cooking or chopping, tiny efforts admittedly, but just enough effort to push many of us towards the potato chip bag when we are looking for a few quick calories.
Carrot-like approaches may not work very well to promote healthier eating among SNAP participants. On the other hand, banning food stamps for the purchase of sugary beverages strikes me as a very sensible policy. For starters, it won't cost taxpayers a dime. Second, it prevents our tax dollars from directly subsidizing an unambiguously unhealthy behavior. Third, and most importantly, it might even make a difference.
Better to ban Pepsi than to give people carrots to eat more veggies.
Peter Ubel is a physician and behavioral scientist who blogs at his self-titled site, Peter Ubel and can be reached on Twitter @PeterUbel.  He is the author of Critical Decisions: How You and Your Doctor Can Make the Right Medical Choices Together. This article originally appeared in Forbes.