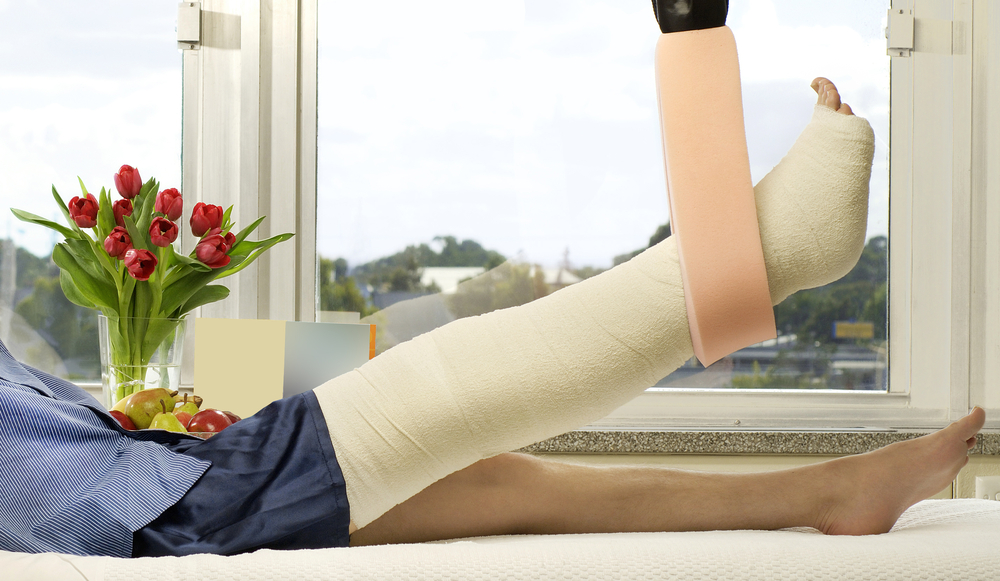 This is an open love letter about my left leg.
I broke it at a roller derby scrimmage in Detroit on September 6. It was my third time representing the Glass City Rollers on the road and the beginning of a long ordeal that has given me plenty of opportunity to reflect on my body and my wellness goals.
Before this injury, my body image was fairly neutral. My weight has oscillated between "overweight" and "obese" since adolescence, but I've been basically healthy. My body was an effective vehicle; I didn't have to think about it too much because I was able to do the things that I wanted and needed to do. I'd sometimes be seized with an impulse to "eat better" or "exercise more" — feeble efforts that usually lasted less than a month. Like most women, I occasionally agonized over finding something flattering to wear for a particular event. If a genie had offered to change one thing about my body, I would've wished for longer, slimmer legs, to make it easier to shop for cute jeans and boots.
Improved fitness was one goal that motivated me to join the Glass City Rollers a year ago, and it was perhaps the best choice I've made since graduating from college. I was exercising in a way that was fun in a community that was supportive. My self-consciousness faded as my collection of spandex grew. I felt good, and the numbers on the scale didn't matter. I graduated from "fresh meat" to the B-team, eager to keep pushing and developing skills.
I can't say exactly what happened on that Saturday afternoon in Detroit. One second, I was skating along the inside boundary of the track (a piece of rope taped to the floor so you can feel when you drift out of bounds without watching your feet) in lose formation with my teammates. The next, I was gazing up at the ceiling of the Masonic Temple's drill hall with blinding pain somewhere above my left ankle. I can only assume that my skate caught momentarily on the rope boundary as I was pushed into the infield of the track, causing my leg to twist.
I was transported by ambulance to the local teaching hospital, diagnosed with spiral fractures of my left tibia and fibula, and scheduled for surgery the next day. The orthopedist warned me about the risk of compartment syndrome, in which swelling causes increased pressure in the extremity and impaired circulation to soft tissue. I remembered the term from nursing school — the topic got maybe a few PowerPoint slides and one multiple-choice question on the musculoskeletal exam — but I had never encountered compartment syndrome in my 5 years of health care experience, and I didn't expect it to happen to me.
My sense of invincibility unraveled the next day when I woke up in the recovery room. The surgeon informed me that he had been unable to plate the fractures in my lower leg as planned because of unexpected swelling. I spent most of the day cursing and crying in escalating pain before the orthopedic team finally diagnosed me with compartment syndrome and whisked me back to the OR for emergency fasciotomies.
The incisions down both sides of my lower leg relieved much of the pain but required lots of advanced care. I remained in the hospital for 2 weeks and made a total of 5 trips to the OR before the lateral incision was finally closed with a skin graft taken from my thigh. I was non-weight bearing and tethered to a wound vacuum and I.V. fluids for most of my time in the hospital. My lower leg was constantly and completely covered with splints and sterile dressings.
I didn't see the incisions until the day that I was discharged from the hospital. The sight was shocking, to say the least. My lower leg was a sampler of wound closure techniques: sutures and staples and vessel loops and skin graft and pie crusting. The orthopedic nurse practitioner taught my mother basic wound care and sent us home with a bag full of dressing supplies.
For several weeks, my own leg repulsed me. I dreaded dressing changes partly because they were painful but mostly because they were frightening and, well, ugly. The incisions were unsightly, but I was most upset by the shape of my leg. It didn't look like any body part that I could recognize as my own. Swelling extended pretty much all the way from my knee to my toes. I had a cankle, and I was sure that I would never be able to wear age-appropriate shoes again. As the swelling subsided and more time passed without activity, atrophy of my left leg became profound. My calf and thigh were deflated. The flesh seemed to just flap and hang from the bones.
The skinny legs I thought I wanted had become a nightmare. I realized that what I had mistaken for "stout" was actually "strong." My left leg had carried me through each rewarding (albeit stressful) day at the community health center where I work, up the stairs to my cozy second-floor apartment, and on leisurely walks through Toledo's historic Old West End with my beloved Basset hound. My left leg helped me drive, skate, shower, and fetch a sandwich from the kitchen when I got hungry. And I had taken all of this for granted.
I've made progress with physical therapy and what my orthopedist likes to call "tincture of time." I can pick up 3 marbles at a time with the toes of my left foot and do more repetitions of my calf exercises with a stronger resistance band. I can see my anklebones again. I intend to maintain this momentum. I know that I'll need to remain active and control my weight to prevent degenerative joint disease in my left knee, a common consequence of tib-fib fractures. I plan to skate again as soon as my doctors allow it and my ankle tolerates it.  The scars down both sides of my lower leg will continue to fade but never vanish. I'm choosing to embrace them as reminders of the struggle that I'm overcoming and the lessons that I've learned.
I've survived 3 long, frustrating months of non-weight bearing status. Now I'm counting down the hours until my next orthopedic appointment and my first steps on my new left leg. They'll be wobbly and probably painful — but it will feel good, and I will be grateful.
Hallie Arrigon is a nurse practitioner who blogs at hungry brown girl.
Image credit: Shutterstock.com