It is well known that Medicare expenditures threaten the financial solvency of the U.S. government. And it is pretty well agreed upon that some of our Medicare spending goes towards wasteful medical care.
But which medical care is wasteful and how much is such care costing us?  A study in JAMA Internal Medicine provides a sneak peek at answers to these important questions. The research, led by Aaron Schwartz, a graduate student at Harvard, focused on interventions that medical experts deem to provide little or no health benefit. For example, the Choosing Wisely campaign, promoted by medical societies, has concluded that testing people's lung function prior to low and intermediate-risk surgeries does not improve surgical outcomes. Similarly, the United States Preventive Services Task Force has concluded that colon cancer screenings yield more harms than benefits for elderly patients.

The researchers explored how often Medicare beneficiaries received unnecessary services like this, a list of 26 tests or procedures that medical experts have deemed to be unnecessary.  The researchers discovered that Medicare patients, on average, received one such intervention per year. The worst culprit, financially speaking, was stenting (propping open) coronary arteries for people with stable heart disease, which by one of their estimates leads to almost $3 billion per year of wasted Medicare spending. Close behind was another cardiology procedure, stress testing for patients with stable heart disease, which triggered over $2 billion of unnecessary spending. Toss in $200 million per year for unnecessary back imaging, another $200 million for unnecessary imaging tests to evaluate headaches, and the researchers uncovered over $8 billion of Medicare waste, for just these 26 interventions.
To the researchers' credit, they do not trust their own numbers. They recognize that it is difficult to determine the necessity of each of these medical interventions by applying a blunt judgment that such procedures are always unnecessary. Take colon cancer screening among elderly people, for example. The estimate of $8 billion in waste includes $573 million of such testing in people over age 75. Given that some 75-year-olds are relatively young and healthy, it's reasonable for clinicians to argue that colon cancer screening can yield more good than harm at that age for selected patients. To account for such flexibility, the researchers also used a more conservative definition of unnecessary procedures. In the case of colon cancer, they put an arbitrary cut-off at age 85. With that definition, the researchers found only $7 million of wasteful spending. And being more conservative across all 26 categories lowered waste estimates from $8 billion to under $2 billion. But don't make the mistake of thinking this last amount is small. A couple billion dollars here, a couple billion dollars there … and pretty soon it adds up. Yes?
Here is a picture summarizing their findings, revealing how sensitive their estimates are to the definition of waste, but also how common waste is even with the most conservative estimates: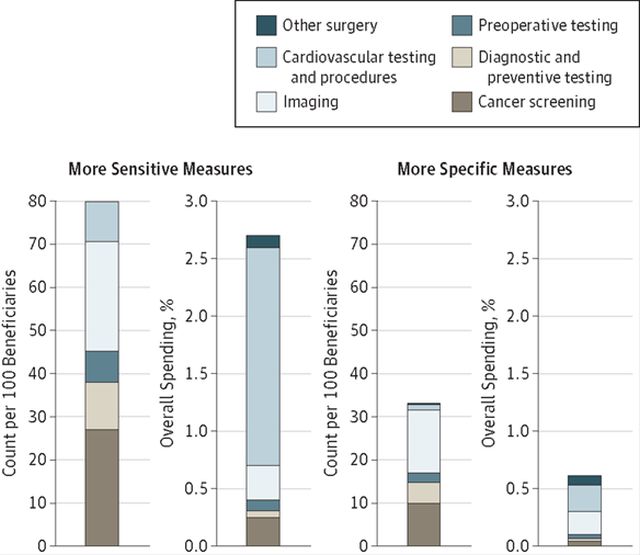 The bottom line? We waste a lot of federal dollars on unnecessary medical care.  But just how much we waste depends, critically, on how we define waste. In addition, wasteful practices tend to go hand-in-hand. Regions of the country that over utilize cardiac stints are also more likely to over utilize lung testing and low back x-rays.
Policies to curb such waste will, no doubt, force us to return to these definitions. At what age, for example, should we stop screening patients for colon cancer? Or breast cancer? How stingy should we be about checking CT scans in anxious patients experiencing severe headaches? How aggressively should we treat knee arthritis with orthoscopic surgery? Each of these questions is likely to be contentious. Failing to answer these questions, however, will most likely cause our financial ruin.
Peter Ubel is a physician and behavioral scientist who blogs at his self-titled site, Peter Ubel and can be reached on Twitter @PeterUbel.  He is the author of Critical Decisions: How You and Your Doctor Can Make the Right Medical Choices Together. This article originally appeared in Forbes.