Part of a series.
Comprehensive primary care for employees means better employee health, greater productivity, less presenteesism and lower costs for both employee and employer. That is why some companies are making health care a strategic imperative rather than just a tactic as part of human resource cost management. Some are developing full service enhanced primary care clinics on site with excellent success as described in my last post. Some companies with fewer employees have partnered together to create a joint primary care program.
Another variant is appearing. Rather than establish their own primary care clinic, some companies have decided to purchase the retainer/membership for their employees in a direct primary care (DPC) practice. They choose one or more practices that offer the type of comprehensive primary care that has proven to be effective in larger companies. Alternatively, they place a sum of money in the employee's HSA or HRA which can be used pay the membership fee for the DPC physician of the employee's choice.
Insurers have been slow to enter this field, preferring to let the employer purchase retainers rather than offering it as part of their policies. A few insurers have decided to partner with a direct primary care (retainer/membership type) practice. A person can go to the ACA state exchange, select the insurer and there purchase a policy that combines a membership with the DPC doctor or doctor group along with a catastrophic policy with a high deductible. The insurer pays the  monthly fee (in 2014) to the PCPs from the premiums collected. Some of these practices combine a PCP and a health coach for each patient, includes classes on health and wellness and otherwise functions like other membership-based direct primary care practices.
Alternatively, some DPC groups works directly with employers. They can offer the employer a good value that will mean comprehensive primary care for their employees while ultimately reducing the total costs of health care.
A few enterprising groups work with insurers to offer self-insured employers a package of direct primary care along with insurance for specialty care and hospitalization. The employer pays the group which in turn pays for DPC with their primary care physicians for expanded primary care with episodic care, common labs, radiology, vaccines, extensive preventive care and chronic disease management. Specialty care and hospitalization is covered by the insurance component and may or may not include co-pays and deductibles as determined by the employer.   The concept here is to convert a completely fixed "insurance" cost to a much smaller fixed cost for catastrophic care and leaving the rest variable for primary care. The aim is to improve health and wellness with first rate primary care thus reducing that variable cost substantially.
These are but a few of the new approaches being taken by employers and enterprising organizations to improve primary care and in the process total health of company employees. Do these represent the future? Only time will tell. But as employers and insurers recognize that high quality comprehensive primary care, although it costs more than typical primary care, will actually reduce their total costs, I predict that they will increasingly gravitate to these sorts of arrangements.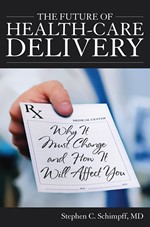 Stephen C. Schimpff is a quasi-retired internist, professor of medicine and public policy, former CEO of the University of Maryland Medical Center, senior advisor to Sage Growth Partners and is the author of The Future of Health-Care Delivery: Why It Must Change and How It Will Affect You.