Not long ago, the Joint Commission established that patients with pneumonia should receive antibiotics within four hours of diagnosis. Timely diagnosis and treatment can be the difference between life and death in patients with this illness. In fact, some people believe this kind of quality measure should play a large role in how we pay for medical care. After all, doctors should not be paid solely on the basis of how much care they provide, but also based on the quality of that care. All else equal, a physician who treats pneumonia efficiently should be rewarded more handsomely than one who takes a fortnight to make a diagnosis.
Only one problem with this seemingly sensible view. Experts believe this four-hours-to-treat requirement leads to an overdiagnosis of pneumonia and, consequently, to an overuse of antibiotics. How we measure health care quality, and how we factor such measures into physician reimbursement, can have surprising effects on how physicians diagnose and treat patients.
Consider another life-threatening illness: sepsis, a syndrome of widespread inflammation and, at its most extreme, multi-organ failure caused by infection. Sepsis typically requires not only high power antibiotics but also intensive care from multiple specialists. A recent article in the New England Journal of Medicine suggests we may be experiencing an overdiagnosis of this syndrome, because hospitals often receive higher reimbursement for patients with sepsis than for ones with milder infections. In other words, it pays not to miss sepsis diagnoses.
As the New England Journal article points out, the rate of sepsis has been climbing in recent years, even though the infections most-likely to lead to sepsis have been stable or declining in numbers: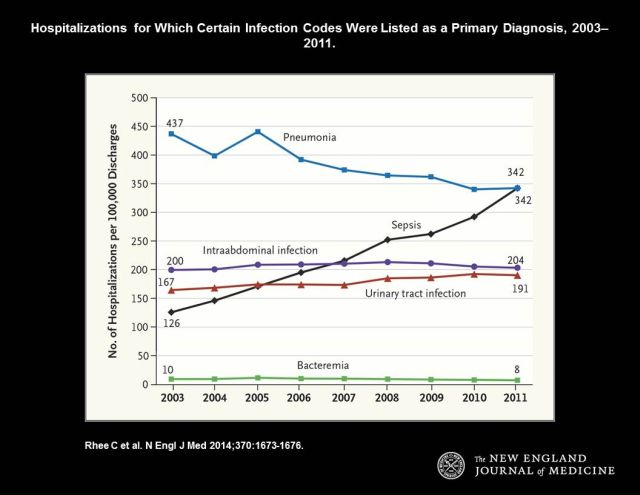 The moral of this story is not simple.  In fact, I raise this topic primarily as a caution to those who think better quality measurement is the key to improving health care performance. First, this story confirms that medical diagnoses aren't purely objective, scientific exercises. Instead, they often rely upon judgment calls. There's no absolute threshold where physicians can determine that a given infection is severe enough, inflammatory enough, to qualify as sepsis.
Second, the rise of sepsis diagnoses reveals how health care payment can influence medical judgments. We have known this for while in the U.S. We knew long ago that fee-for-service payment incentivizes health care providers to overdiagnose and overtreat patients. And we learned, when Medicare introduced lump payment systems in the 1980s — paying hospitals a fixed fee based on patients' diagnoses — that hospitals would choose among possible diagnoses to find ones that maximized their income.
Now we know that quality measures, linked to patient diagnoses, could create similar problems. The judgments clinicians make, about what diagnoses patients have, are not independent of the way they're paid for care. Diagnoses are not always hard and fast, but are often vague and mushy. These mushy diagnoses do not exist only because of burdensome government regulations or greedy health care providers. They exist because medical care is a sloppy enterprise. Diagnoses are not always kind enough to present themselves unambiguously. Streptococcal bacteria do not always announce when they have transformed from being harmless to pathologic to sepsis-provoking.
Because of the inherent subjectivity of medical diagnoses, those groups that assess health care quality need to remain on the alert for the unintended consequences of their measures.  And those insurers and regulators eager to establish clinical care mandates? They need to slow down and make sure their administrative fixes do not create undue side effects.
Peter Ubel is a physician and behavioral scientist who blogs at his self-titled site, Peter Ubel and can be reached on Twitter @PeterUbel.  He is the author of Critical Decisions: How You and Your Doctor Can Make the Right Medical Choices Together. This article originally appeared in Forbes.