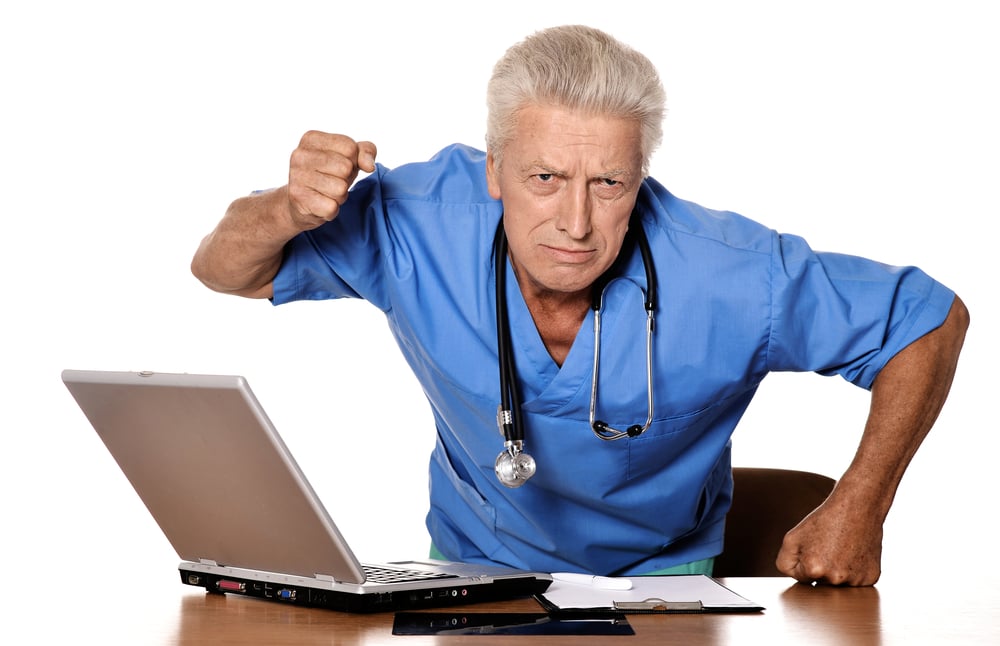 "I'm here to say 'Yes, they can,' which is different from 'Yes, they always do,'" says James Moore, MD, president-elect of the California Society of Anesthesiologists (CSA).
To the contrary, enthusiasm for electronic medical records (EHRs) is part of a "syndrome of inappropriate overconfidence in computing," argues Christine Doyle, MD, the CSA's Speaker of the House.
The two physician anesthesiologists (and self-identified "computer geeks") squared off in a point-counterpoint debate in New Orleans as part of the American Society of Anesthesiologists (ASA) annual meeting, with Dr. Moore defending the benefits of EHRs and Dr. Doyle arguing against them. Dr. Doyle chairs the ASA's Committee on Electronic Media and Information Technology, while Dr. Moore leads the implementation of the anesthesia information management system (AIMS) at UCLA.
Legibility, accuracy, quality
Dr. Moore defined safety in anesthesia care as "minimizing patient injury resulting from or occurring during anesthesia, and keeping surgeons from harming patients any more than they have to." He said that computerization contributes to safe anesthesia care by improving legibility, offering clinical decision support with readily available reference information, and providing alerts and reminders.
Computer tracking of the anesthetized patient's vital signs is more accurate, Dr. Moore said. It prevents the "normalization" of blood pressure that tends to appear on the paper record. Quality reports are easier to generate and outcomes are easier to measure with EHRs in place, he noted. "Postop troponin levels and acute kidney injury are easy to track."
In particular, CPOE (computerized physician order entry) has proved effective in reducing medication errors and adverse drug events, Dr. Moore said. It reduces the time it takes for an order to reach the pharmacy, reduces confusion of drug names, and eliminates "trailing zero" mistakes.
In the Kaiser Permanente health system, Dr. Moore said, internal EHR data identified higher myocardial infarction rates among patients on cox-2 inhibitors before peer-reviewed data became public. He cited another study showing that key quality indicators improved among dialysis patients after an EHR management module was implemented, compared both to the pre-implementation rate and to national registry data.
A recent article in Healthcare Informatics reported on a study of 4,500 acute care facilities in all different stages of EHR implementation. Actual vs. predicted mortality rates were reported for five risk-adjusted service lines: cardiac, critical care, GI, neuroscience, and pulmonary. To date, the study has shown that facilities at higher levels of EHR implementation have a better ratio of actual mortality to expected mortality than do hospitals that are lower down on the scale, Dr. Moore said.
Over-reliance on automation
On the contrary, Dr. Doyle said, "EHRs may actually be causing problems." At present, she said, the EHR is chiefly an instrument of managerial control, used for administration and billing.
Poorly designed information technology (IT) can create "new hazards in the already complex delivery of care," Dr. Doyle asserted. "Dosing errors, failure to detect life-threatening illness, and delaying treatment due to poor human-computer interactions or loss of data have led to serious injury and death."
An over-reliance on automation caused the Boeing 777 crash at the San Francisco airport in July, 2013, Dr. Doyle said, and likely contributed to a failure in communication at the Dallas emergency room at the time of the Ebola patient's first visit. "The nurse needed to tell the ER doctor that the patient had just come from West Africa!"
Dr. Doyle pointed out that an EHR doesn't eliminate poor documentation and communication practices that may lead to patient injury and malpractice lawsuits. She quoted NORCAL Mutual Insurance Company's written opinion, "In litigation, an electronic record can't match the power of a thoughtful, well-constructed paper record."
The dangerous tendency to cut, paste and "clone" notes in the EHR creates a false illusion of accurate documentation, Dr. Doyle said. "Is this experimental technology? Is it ethical to use it on patients without their informed consent?"
There has been a "lack of scientific rigor" in the application of IT in health care, Dr. Doyle said. Obvious problems may be ignored or excused. Bad IT design promotes mistakes, she said, while "those who report safety-relevant IT issues can be and are retaliated against by their domain knowledge inferiors."
Many people don't realize that "it's insanely easy to hack hospital equipment," Dr. Doyle said. Identity theft will be a growing problem. "The people trying to break in are getting smarter and smarter," she warned.
Implementation is critical
Both speakers agreed that often the problem in hospital EHRs isn't so much the technology as the implementation. Often, menus are completely configurable at the site, so there is little standardization even within the same brand. One organization may have a top-notch implementation, while another may be poorly supported or rushed for time and create its own errors.
Dr. Doyle said poorly designed lists and menus can easily lead to confusion about whether an infusion is meant to be given by the intravenous or epidural route. Drop-down lists should be context-sensitive, she pointed out. It may be appropriate to list "helicopter" as a means of transport from a crash site to the ER, but it doesn't need to appear on the list of options for transport from the ER to the radiology suite.
Dr. Moore said that every AIMS must provide reliable device data integration and be physically set up in a way that will minimize distraction. "Start testing early," he advised. "Make sure the hardware arrives on time. And involve a clinician!"
Karen S. Sibert is an associate professor of anesthesiology, Cedars-Sinai Medical Center, Los Angeles, CA.  She blogs at A Penned Point. 
Image credit: Shutterstock.com