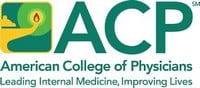 A guest column by the American College of Physicians, exclusive to KevinMD.com.
The recent uproar over the American College of Physicians' recommendation against routine pelvic examinations made me think about the status of the annual visit (a.k.a. yearly physical, annual exam) on average risk, asymptomatic adults that most internal medicine specialists perform. Some would say that it is at the core of what we do, given its focus on prevention and relationship building between patient and physician. Nonetheless, I think that our day of reckoning is not far off.
Like many tests and treatments, an annual comprehensive history, examination, and testing seemed like a good idea when it was presented at an American Medical Association meeting by Dr. George Gould in 1900. However, the evidence supporting such a visit is weak. That is not a recent observation; in fact, in 1981, ACP's Medical Practice Committee published a clinical guideline in the Annals of Internal Medicine stating that "Present data are not adequate evidence justifying annual complete examination of the asymptomatic patient at low medical risk. The American College of Physicians recommends that each internist develop individualized plans for patient examination."
In order to interpret the evidence, it's important to know what question is being asked. It is not whether counseling, screening, or case finding for certain diseases is worth doing. The question is whether having patients come in annually for a dedicated visit to do all of those things and more is better than doing it at visits that are scheduled for other purposes (opportunistic screening), or, as I'll discuss later, without a face-to-face visit at all.
For purposes of this discussion I will assume that most of us do not perform a "one size fits all" annual visit but tailor the visit to the patient's age, gender, and risk factors, as ACP and others recommended in the 1970s and 80s. In reality, many "annual" visits may not even occur yearly, for example in younger and healthier persons. In addition, I'm certain that many physicians no longer perform a comprehensive history and head-to-toe examination at these visits, but instead customize the content to the patient's needs.
Still, the question remains whether this tradition benefits patients, and more importantly, does it harm patients? By now, you're probably reminiscing about the times that you discovered something at an annual visit that led to an important diagnosis, or even saved a life. How many of these diagnoses would have been just as treatable if detected at a later, symptomatic stage, since not all conditions benefit from early detection? Also, how many times have you turned up abnormalities that ended up being false alarms, one or more tests later? A recent JAMA Piece of My Mind column described what may be an extreme example of harms from an annual visit. More common examples include hearing heart murmurs that generate echocardiograms showing clinically insignificant findings for which no action is recommended, or ordering "routine" metabolic profiles that turn up minor abnormalities requiring repeat testing or imaging to prove that nothing is wrong.
If you would like to look at the best evidence on the topic, read this review and a more recent Cochrane review.
The bottom line from these and other papers is that the evidence supports some components of the annual visit but does not support the value of the entire visit. Persons who undergo annual visits feel more reassured and are more likely to receive some recommended preventive services than those who do not have an annual visit.  There is no evidence of a morbidity or mortality benefit from annual visits. There is very little evidence on the harms and additional costs resulting from annual visits.
Recently, the Society of General Internal Medicine (SGIM) recommended "Don't perform routine general health checks for asymptomatic adults" as one of its Choosing Wisely items. To its credit, SGIM was one of very few groups whose Choosing Wisely recommendations involved a service or procedure that its own members provide. However, the recommendation on the annual exam upset SGIM members, according to press reports.
The logic behind the annual visit is mired in the paradigm of face-to-face care provided exclusively by the physician. What if we took a twenty-first century approach instead? Care is delivered increasingly by teams using health information technology. Many of the evidence-proven services delivered or discussed at annual visits can be tracked and require little more than periodic reminders to patients. A high-functioning patient care team, prompted by a good EHR, could ensure that patients get routine screenings using phone calls from medical assistants or nurses, or computer-generated text messages, patient portal alerts, and other means that do not require an in-person visit with the physician. Some interventions, such as counseling, would still require a visit, but not necessarily with a physician, nor as part of a comprehensive evaluation.
Next to the culture change required to replace the annual visit, the two most significant barriers are the payment system and patient expectations. Our current system does not value non-face-to-face care adequately. Under the status quo, annual or periodic preventive visits are covered by most insurers, so how might a move away from annual exams be funded? If we intend to keep our patients up to date with their screening in real time instead of using the traditional annual visit, someone will have to pay for the necessary systems, staff, and other resources in a way that the current payment system does not.
Linking payment to meeting screening goals using a "pay for performance" methodology could be part of the solution, but it does not guarantee payment for the up-front costs of acquiring the information technology and adopting new workflows. A "per member per month" payment would work, as would "add on" codes for the extra time spent at other encounters when face-to-face counseling is needed. Moving away from yearly "well-adult visits" could have implications on access, as physician time currently spent on these encounters could be used for other patient visits, such as same day access.
As to how to change patient expectations, that may not be as difficult for us to achieve as it seems. After all, who created patient expectations around the annual visit in the first place?
Yul Ejnes is an internal medicine physician and a past chair, board of regents, American College of Physicians. His statements do not necessarily reflect official policies of ACP.