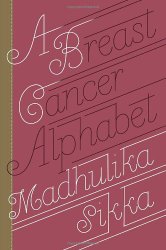 An excerpt from A Breast Cancer Alphabet.
There is a hushed reverence in the waiting area outside the Oval Office. After all those years of The West Wing, one might think there would be a bustle of activity — a swirl of smart, earnest people walking and talking at the same time. Perhaps I would catch snippets of conversation about budgets and bills, policies and politicians. It's not like that. My NPR colleagues and I were there to interview President Obama, and we waited quietly with a stenographer and the Secret Service. No one else came by.
Despite my years of journalism in Washington, it would be my first time in the Oval Office. It was December 2010, and the White House was beautifully decked out for the holidays. It should have been an exciting moment, but the only thing I could concentrate on was my cell phone. Four days earlier I had undergone a needle biopsy on a suspicious mass in my left breast, found after a routine mammogram. I was waiting for my internist to call with the results. In my heart I knew it would not be good. Something in the radiologist's  manner gave me a clue. As she prepared for the biopsy, I'd tried to break the ice.
"Maybe it's just a blocked duct," I'd said jokingly. She didn't laugh or even crack a smile. Not good, I thought.
This was also the week when Elizabeth Edwards died after having been diagnosed with breast cancer just six years prior. The wife of the onetime presidential and vice presidential candidate John Edwards, she had revealed her diagnosis — a day after the 2004 presidential election, in which her husband and his presidential running mate, John Kerry, lost. Her cancer returned  in 2007 during her husband's bid for  the  presidency.  She  ultimately weathered  the twin challenges of breast cancer and her husband's infidelity with grace and poise. I had pored over all the reporting about her in the days since my biopsy. Of course this was part of my job as a journalist, but it took on greater meaning for me as I awaited the results of my biopsy. Thoughts of her passing went through my mind as I paced nervously and made small talk with my colleagues.
On a nearby table, there was a digital photo frame cycling through images of the president. For some reason I kept waiting for the photo of then Russian president Dmitry Medvedev and President Obama at Ray's Hell Burger, the renowned hamburger joint in nearby Arlington, Virginia, to come round. Why was I so taken with that picture? Maybe it was because I had eaten there myself with my husband and two daughters,  and I remembered  how we'd laughed at the contrivance in this photo, the presidents of two superpowers, in shirtsleeves, just enjoying a burger like any old Joe. I felt my phone buzz and saw the caller ID was blocked. I didn't answer. This was not a conversation I could have. Not here, not now, waiting to be called into the Oval Office at any moment.
All I remember about my entrance into the Oval Office was that the room seemed much smaller than in the movies. The Christmas tree was also surprisingly understated in its decorations. Was the furniture more shabby chic than stately home? Couldn't tell you. The new rug? No idea. I can tell you that the president looked older than I had imagined. Twenty minutes after we had entered the Oval Office, we were done. Extending the Bush tax cuts, the START treaty, overhauling the tax code — the topics raised in the conversation whizzed by in a blur .  The president stepped out to the outer office and donned his coat and scarf before heading off to light the national Christmas tree .  We gathered our equipment and headed to the NPR filing booth, a tiny closet located underneath the press briefing room (formerly a swimming pool), to file a quick clip of the interview with the president for the top-of-the-hour newscast. I ducked out of our booth to check my voice mail . One thing to know about the filing area under the press briefing room is that cell reception is quite bad. I had to wander around to find the place where my phone would actually work.  Anxious and pessimistic, I listened and breathed a sigh of relief. The call was from my middle school daughter's teacher, apprising me of something that had happened at school that day . Normally I might have been concerned about a call from school, but given what I was anticipating, this was welcome and not worrying news.
I returned to the  filing booth,  where  we  plotted out what we would be doing for the next news cycle, what clip we could play later in the evening, and the next morning's show. My job as executive producer of Morning Edition, NPR's flagship show, which reaches some 6 million listeners a day, was all about decisions — big and small. How would we use the president's interview with host Steve Inskeep throughout the broadcast? Was there a role for our White  House correspondent, Scott  Horsley?  What clip would we put out in advance of the morning's broadcast and release to the press?
I left my colleagues Steve and Scott to structure an outline for our story and wandered back upstairs to the press briefing room. You know this room, the one that has the blue curtains with the White House logo and the press secretary's podium. It is the site of the daily press briefing. Here you get a cell signal. I noticed a fresh voice mail. It was my doctor asking me to have her paged.
The moment of reckoning had arrived. I needed some privacy for this conversation, so I stepped outside, into the crisp, cold early-evening air as I waited for the hospital operator to track her down. There was a construction site right by the briefing room, a massive hole with big pipes sticking out. It might as well have swallowed me up. My head had been full of the president's interview, and now my doctor was delivering the most devastating news I had ever had in my life: "You have breast cancer."
What my doctor was saying competed with words from the president's interview in this word cloud in my head. I was shaken back to earth when she added, "Here is the first thing you are going to do. I've made you an appointment with a breast surgeon, and I will get one for an oncologist."
There was a plan. The producer in me appreciated that my doctor knew that there needed to be an action item to go with the delivery of this news. But it was Thursday night, and I wouldn't see the surgeon until Tuesday. No decisions would be made on my cancer for some days. Nothing to do for now except go back to the office at NPR headquarters and make decisions about things I did have some control over: how to edit the president's interview for air the next morning, how to divide the interview between the two hours of the show, how to work with our digital team to have it all ready to publish online, and how to craft a press release with our communications department. And of course, I had to decide which pizzas to order while we were working on all of this. Five hours after getting the diagnosis, with the interview in good shape for air, I crawled into a taxi and went home. My husband, Jim, had been out that evening performing at a holiday party with his band, a hobby he pursued with vigor outside his duties as a Georgetown  University history professor. I hadn't called him because I knew he would be onstage and would probably not even hear the call. As it happened, we both got home around the same time. The kids were already asleep. We didn't have to say anything to each other. He knew as the tears welled up in my eyes. I curled up on the couch with him and cried.
I'm in the information business, so my first instinct could have been to get on the Internet to see what I could find out. But I knew that doing this would send me down the rabbit hole of unbridled fear. My husband had been diagnosed  with cancer a decade earlier, a rather rare tumor in his salivary gland, and just a short time on the Web looking up information about his condition had convinced me that he was going to die soon and I would be left a widow before the age of forty with two young children. He didn't and I wasn't. In fact we had just passed the ten-year mark since his diagnosis, and his health today is excellent.
In the days between diagnosis and the first surgeon's appointment, the mind makes mischief. There is nothing to do but wait and overthink. The lump in my left breast had grown from the size of a pea to the size of a clementine — in  my head. I would not survive to see my kids graduate from high school — in my head. I would never visit my dream city, Istanbul — in my head. What was I supposed to do to keep myself distracted?
I needed a filter for the volume  of information that was out there. Fortunately, my brilliant friends Anne Gudenkauf and Alison Richards, both of whom are science journalists, became my cancer coaches, preparing me as well as we prepared for an interview with the president. I gathered both of them in Alison's office and sat down.
"It appears that I have breast cancer, and I really need your help to get me ready to meet the breast surgeon," I said. At this point all I knew was that the biopsy showed a "poorly differentiated carcinoma." What did that mean?
"It means you have cancer," they told me. "They like to check the other breast more closely, so you'll probably have to have an MRI," Alison said.
"But I'm really claustrophobic," I said. She could sense my anxiety but gently insisted that it was a good thing for me to do.
My friend Anne is one of the wisest and calmest people I know. "We'll put some things together," she said. "There are some helpful websites that spell out the questions." They came up with key questions that I needed to take in to the doctor with me. What kind of breast cancer do I have? Has the cancer spread? Will I need surgery? What kind — lumpectomy or mastectomy?  What tests do I need to have before the surgery? Who is going to be my doctor and coordinate my care? I was fortunate to have a prep team who understood the science of oncology and who weren't as emotionally racked as I was. My longtime friend and colleague Cokie Roberts, who herself had been diagnosed with breast cancer almost a decade earlier, was also an enormous  help  in those early days. When she asked how my family had reacted to the news, I told her that only Jim knew and that I would tell my girls, my father, and my siblings after that first appointment with the surgeon. I wanted to wait until I had a plan before talking with them.
"You are not going to walk out of that office on Tuesday with a plan," she warned me. "That's going to take a while."
Cokie proceeded to tell me the questions I should ask that would give me a sense of the steps I would be taking over the next few weeks. Would they look at the sentinel nodes during surgery? If they did, I'd be staying overnight, so I should plan to have someone with the kids while my husband was with me. Would I know the characteristics of the tumor right at surgery time? Would I be going in for a lumpectomy? If they found something else, would they do more invasive surgery at the same time? And by the way, she was right about not having a plan after that first appointment!
Cancer treatment is a whirlwind. As one friend said, "This cancer stuff keeps you busy!" I reverted to my journalistic instincts, asking questions, seeking guidance, being persistent without being too pushy. Soon it became clear that I was heading for a single mastectomy, and it was likely I would also need chemotherapy, though the pathology on the cancer could not be done until the tumors (yes, plural) had been removed and had gone through extensive analysis.
I was also inundated with literature, from the American Cancer Society, from the Lombardi Cancer Center at Georgetown University, where I was being treated,  from  the  nutritionist,  the  social  workers, and my friends. I had a big box full of information about mastectomies and chemotherapy and nutrition and drugs. The great thing about living in the twenty-first century is our access to information. Unfortunately, the bad thing was that I was being drowned by information — so much of it and with so little time or head space to look at it clearly and objectively.
But none of this information really helped me: me the woman; me the mother; me the wife. Me. Nothing prepared me for the emotional loss of my hair or for the fact that my breasts would become the domain of so many people and would even be photographed,  regularly.  Nothing  clued me in to the fact that I would be so exhausted I would flop on my couch like a rag doll. Nor did any of the official literature make me aware that a few strategically placed pillows would dramatically ease my discomfort during post-op recovery. I didn't then know that I would discover extraordinary acts of kindness  in  every facet of my life, or that I would be able to laugh about my plight sometimes.
Women with breast cancer are expected to be upbeat, but also hard-assed and martial in their attitude about the disease. We are constantly told that we can beat the cancer, but when you are actually going  through  the treatment,  you often  feel helpless as the true effects of it take hold. I thought, If I didn't have any say in getting the disease, why would I be able to beat it? No one told me it was okay to cry uncontrollably or okay to be angry or okay to acknowledge out loud that it is a real bummer to be diagnosed with cancer.
I needed something that would validate how I was feeling at  particular moments.  A  little  pick- me-up that I could turn to — nothing too long or scientific or self-indulgent, something that I could slip into my handbag or have by my bedside that I could dip in and out of. A short book that wouldn't tax my chemo-addled  brain. Something  that filled the  gaps  in  the  overflow of information available at the touch of a keyboard, something  that spoke to me the patient. Where would I find that? Sadly, breast cancer has become an epidemic, with 250,000 new diagnoses every year in the United States alone. One in eight women in the United States will be diagnosed  with breast cancer. With those kinds of odds, it was not surprising that I had many friends and colleagues who were fellow travelers in Cancerland. They were my guides, who helped me navigate this treacherous terrain. But not everyone can rely on friends like mine who happen to be science writers or media professionals.
So this is a book for anyone who has been diagnosed with breast cancer and needs a companion. This book is for all of you who have become members of a club you did not want to join. This book is for your friends and relatives who are going through this with you and may not always know exactly what you are feeling. Above all, I hope that this book will sometimes put a smile on your face but always let you know that you have every right to feel the way you do on any given day. It sucks to get cancer.
Madhulika Sikka is executive editor, NPR News, and author of A Breast Cancer Alphabet.