The Affordable Care Act expanded Medicaid eligibility this year in those states which decided to follow its provisions. That means lots of people are now newly eligible for Medicaid. However, the number of people signing up for Medicaid in the states has been underwhelming. Which raises a question: How much can we expect enrollment numbers to increase over the next few years?
To begin to answer that question, a group of researchers studied what happened in four locations — California, Connecticut, Minnesota and Washington DC – which in 2010 chose to expand their Medicaid coverage earlier than required, for low income childless adults. The researchers studied how quickly these newly eligible people signed up for Medicaid. The main finding was that new enrollment was gradual in most of these locations, as shown in the figure below: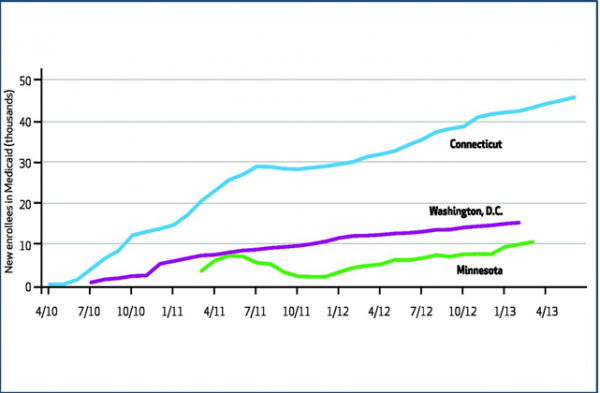 Be careful how you interpret this picture. It makes it look like enrollment was barely increasing in Washington DC and Minnesota. But this is a picture ofnew enrollees, not total enrollees. If everyone enrolled on day one, there would be a big spike in this graph, and then the lines would go down to zero from then on. So even a relatively flat line means that new people keep trickling in. In fact, the rate of people trickling in is still rising in these locations, almost 3 years after they expanded Medicaid.
In California, by contrast, there was a much steeper rise in new enrollments: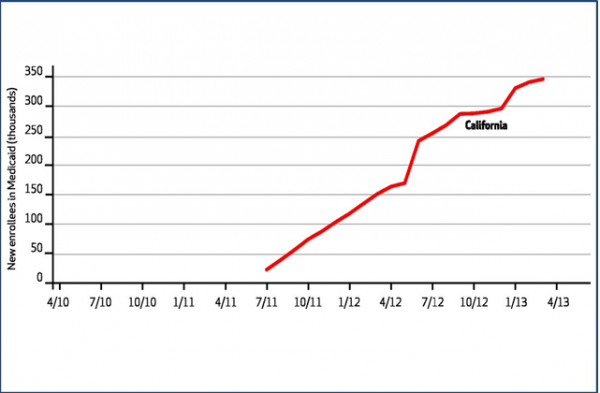 And once again, keep in mind that this figure shows that the rate of new enrollees continues to grow over time. There wasn't an initial bolus of enrollees, that exhausted the population of newly eligible. Instead, the number of enrollees keeps climbing, after a relatively slow start.
We must remain cautious about extrapolating these results to predict Medicaid enrollment numbers under the Affordable Care Act. But these data at least suggest that Medicaid expansion won't be "soon or never." States which have chosen to expand their Medicaid coverage can plausibly expect new enrollees to keep trickling in over the next few years. Perhaps just as importantly, states which decide to expand Medicaid in the next couple of years should not expect an enormous bolus of people clamoring for such coverage the day after they become eligible.
Change (whether or not it's the kind you believe in) often takes a long time.
Peter Ubel is a physician and behavioral scientist who blogs at his self-titled site, Peter Ubel and can be reached on Twitter @PeterUbel.  He is the author of Critical Decisions: How You and Your Doctor Can Make the Right Medical Choices Together. This article originally appeared in Forbes.