Physicians in Congress are on the rise. From 1960 to 2004, only 25 of the 2196 members of Congress were physicians. During an era that brought such fundamental changes to health policy as the creation of Medicare and Medicaid, physicians were disproportionately less likely to hold congressional office than their counterparts in law (979) and in business (298). In recent years, the ranks of physician-representatives have swelled — twenty physicians currently hold seats in the 113th Congress.
This surge in membership comes at a crucial time, for health care has become a defining issue in American politics. The passage of the Affordable Care Act has divided the nation and brought party relations to a standstill. In the 2012 presidential election, health care ranked as the second most important issue to voters, its highest level in twenty years. And with health care spending projected to be the largest long-term contributor to national debt, the nation's health and economic future depends on sound health policy. What role can this new cadre of physician-representatives play in shaping this process?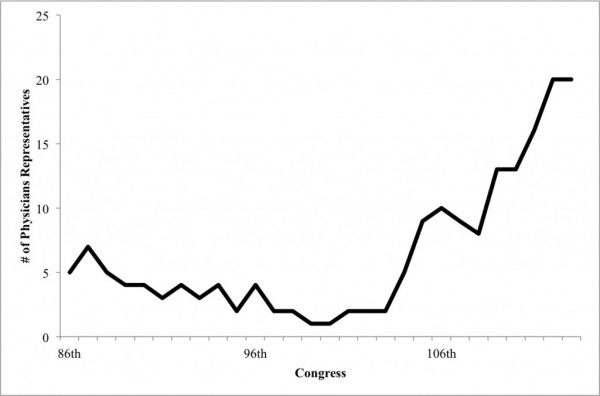 Physician representation in Congress from 1959 (86th Congress) to the present (113th Congress). Sources: Journal of the American Medical Association; Biographical Directory of the United States Congress.
By nature of their professional experience, physicians in Congress — along with colleagues from other health professions like nursing — have unique capacity to guide national health policy. First and foremost, they can bring grounded experience to policy development. Professional careers regularly serve as the basis for field-specific expertise in politics; businessmen run for office on records of economic prowess, and lawyers promise knowledge of the intricacies of legal frameworks. Similarly, physician legislators can bring a more direct understanding of the needs of patients and providers.
Congressional health policy often fails to consider the realities and nuances of medical practice and, as a result, can meet resistance from members of the profession. Physician-representatives have the ability to contribute policy ideas that are more sensitive to these realities, and better grasp the incentives created during national health reforms. This can lead to legislation that draws on the most effective levers for reform and is more warmly embraced by the medical community.
Bolstering this expertise is substantial credibility. Despite public rancor over our underperforming health care system, Americans still view physicians as honorable and trustworthy. A 2012 Angus Reid Public Opinion poll showed that 90 percent of surveyed Americans had a "great deal" or "fair amount" of respect for physicians, far above the 48 percent responding in kind for business executives, and the 45 percent who felt the same for lawyers. This credibility only increases in the realm of health policy. A 2009 Gallup poll showed that Americans had more confidence in physicians than anyone else to recommend the right reforms for the US health care system.
For this reason, researchers have found that physician support is fundamental to the national viability of health care reforms. Whether or not holding elective office attenuates these benefits is unclear, since the same surveys indicate that a minority of Americans respect or trust politicians in general. Nevertheless, it is clear that physician-representatives begin their tenure in Washington in higher public esteem than their peers from other industries.
These characteristics — health care expertise and broad public credibility — uniquely position physician-representatives to shape national health policy development. For example, former Senate majority leader William Frist drew on his medical experience to reform national organ donation laws. In 2002, Frist worked with then-Senator Chris Dodd to introduce the Organ Donation and Recovery Improvement Act (S. 1949) — a bill to increase federal funding for efforts to promote organ donation, such as reimbursements for donor travel expenses, research into organ recovery methods, and grants for hospital coordination programs. This legislation laid the framework for $25 million legislation (H.R. 3926) that passed Congress with near unanimous support in both chambers and was signed into law by President Bush in 2004.
Frist's efforts demonstrate the potential behind physician-driven congressional health policy. As an academic transplant surgeon, he possessed a level of expertise in the subject that most others in Congress, even expert staffers, lacked. This is a powerful model for reform. Physician-representatives can integrate their insights from medical practice into pragmatic, patient-based legislation. As the nation moves beyond the Affordable Care Act, this paradigm, coupled with the increase in physicians in Congress, offers a promising future for national health care reform. This model of incremental, experience-based health policy development may ultimately produce more viable, effective, and lasting health care legislation than sweeping attempts at system reform.
Legislative records from the 113th Congress suggest that some physician-representatives are embracing this role. For example, Representative Raul Ruiz (D-CA36) has sponsored legislation ranging from supporting caregivers for sick veterans (H.R. 3672) to raising AIDS awareness (H.Res. 381) to preventing Medicare fraud (H.R. 3616). Over the last year, Dr. Michael Burgess (R-TX26), an obstetrician with a master's degree in medical management, has led the charge to repeal the Medicare sustainable growth rate (SGR) formula. In 2013 he introduced the Medicare Patient Access and Quality Improvement Act (H.R. 2810), which passed through the House Energy and Commerce Committee with bipartisan support. This legislation formed the core of a bipartisan, bicameral plan for SGR reform (H.R. 4015) that was introduced in early February under the sponsorship of Burgess. Other physician-led legislation tackles issues from improving emergency medical services (H.R. 809) to addressing physician shortages through immigration reform (H.R. 2484).
The fate of such legislation remains to be seen. What's more, many physicians in Congress have failed to fulfill this ideal, falling prey to the ideologies of party politics. But health care does not have to be partisan and we believe that, in the long-term, the best solutions will stem from the realities of practice. Strong physician leadership is essential to solving our health care crisis, and the knowledge and perspective of physician-representatives can be powerful factors in shaping legislation ranging from graduate medical education financing, to health information technology implementation, to coverage policy for Medicare. Moreover, their credibility strengthens the viability of these reforms in both the professional and public sphere. We hope that the growing number of physician-representatives will seize this unprecedented opportunity for physician-led health reform from within Congress.
Brian W. Powers is a medical student.  Sachin H. Jain is chief medical information and innovation officer, Merck, a lecturer in health care policy at Harvard Medical School, and an attending physician at the Boston VA Medical Center.   
This article was originally posted on the Health Affairs Blog, March 5, 2014. Copyright ©2010 Health Affairs by Project HOPE – The People-to-People Health Foundation, Inc.