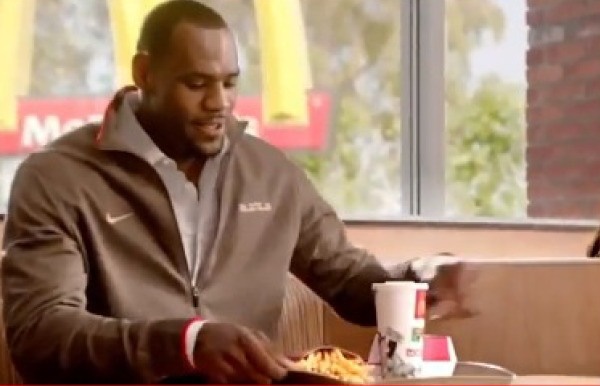 Lebron James makes over $19 million per year playing basketball for the Miami Heat. Not surprisingly, this salary is peanuts compared his endorsement earnings, which in 2012 topped $42 million. Although perhaps peanuts is the wrong word to use when discussing James outside earnings, which to my knowledge have not involved foods anywhere near as healthy as peanuts. Instead, according to a recent study in the journal Pediatrics, James is King of Junk Food, earning millions of dollars endorsing Sprite (a.k.a. sugar water), Powerade (a.k.a. glorified sugar water) and McDonald's (a.k.a. the place you wash down fries and burgers with sugar water).
My 13-year-old son is a huge Lebron fan. He owns a Lebron jersey, roots for the Miami Heat even though he's never lived anywhere near Florida, and even defended James after his colossally misguided "decision." Food marketers recognize that 13-year-olds like my son are strongly influenced by their idols. They know that linking popular athletes with their products will create positive psychological associations. These associations often work at an unconscious level. My son would probably never admit that he thinks Powerade is cool because Lebron drinks it. He might not even recognize how his attitudes towards that product have been influenced by Lebron's endorsement. But you can bet that the advertising has worked his magic on him, and hundreds of thousands of other 13-year-olds.
Now clearly, food manufacturers have the right to advertise their products through celebrity endorsements. And Lebron James has the right to make as much money on endorsement deals as he chooses to. But that does not mean that the rest of us have to approve of their endorsements.
In my opinion, Lebron James should be ashamed to make money endorsing such unhealthy products. So should Peyton Manning, who promotes Pepsi among other fast food items. These athletes are already wealthy beyond the imagination of mortals like me. They do not need the money from these endorsements, except to fuel their egos – perhaps their desires to have more power and influence than other athletes, or to top each other in annual earnings.
I am fine with people accumulating power. But what is the point of power if you are not using it to make the world a better place?
The best way to push back against unhealthy market forces is with healthy ones. With that in mind, I have decided that before I purchase any sports jersey as a gift for one of my children, I will make sure that the athlete whose name appears on the jersey does not endorse any unhealthy products. I know that's a very small step to addressing this problem. But if enough of us follow suit, it may make the difference, by encouraging famous athletes — who, like it or not, are role models for our children — to put their greed aside long enough to do what is right.
Peter Ubel is a physician and behavioral scientist who blogs at his self-titled site, Peter Ubel and can be reached on Twitter @PeterUbel.  He is the author of Critical Decisions: How You and Your Doctor Can Make the Right Medical Choices Together. This article originally appeared in Forbes.