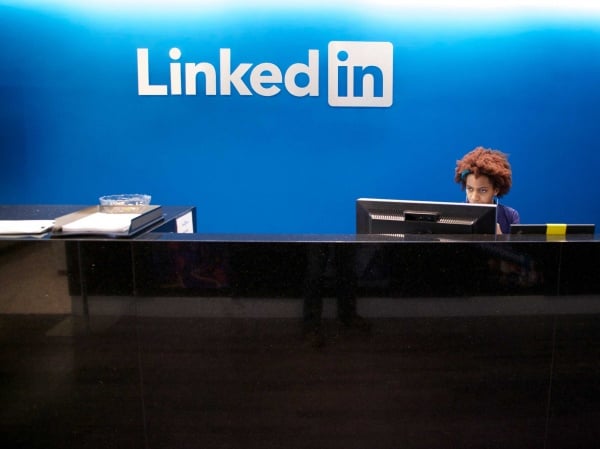 When I talk to physicians about dipping their toes into the social media waters, I advise starting with LinkedIn.  Spend about 45 minutes or so and create a LinkedIn profile, which is essentially a digital translation of your CV.  LinkedIn profiles get ranked highest among the social media platforms, and can push down the influence of negative news stories or physician rating sites.
Howard Luks is a social media thought leader, and whose opinion I respect tremendously.  He wrote an insightful piece explaining why LinkedIn may not be right for doctors:
As a physician on LinkedIn, not only do you have a virtual "please sell to me" sign on your forehead, most will perceive their presence on LinkedIn as a huge waste of time.  Unless you are an aspiring entrepreneur, etc you will find that the connections you make on LinkedIn are weak at best. In addition, while your patients are looking you up online, for the most part they are not looking at your LinkedIn profile.
He goes on to suggest doctors spend their time on physician rating sites like Vitals or Healthgrades, Google+, or Yelp.
When it comes to establishing an online reputation, there are essentially two ways of doing it.
"claiming" a profile on an existing physician rating site
creating your own online presence, either with a website or through a social media platform
While I generally recommend the second approach of proactively defining yourself with social media, the first option of utilizing existing sites is viable.
First, much of the information in Vitals or Healthgrades is inaccurate, and can lead to the so-called Google Maps problem, where Google may use the information on these sites.
Second, physicians can leverage the high search engine visibility that these sites generally garner.
The downside of this approach is that these sites are for-profit and generally don't have physicians' best interests at heart.  Their physician profile pages are littered with ads, which can subtly imply a physician's endorsement.
Also, consider the terms of service of one of these sites, which are heavily skewed against the doctor:
You acknowledge that your Physician-Provided Material may be used without restriction for any purpose whatsoever, commercial or otherwise, without any compensation or obligation to you.
Because of those reasons, I prefer doctors create social media profiles instead, where they have more control over how their online identity is controlled and presented.
Howard also recommends Google+ and Google Places for Business. However, there is more friction in taking this approach, namely the cumbersome way Google verifies your business address.  If this can be overcome, this does indeed have the highest search engine impact, as seen below: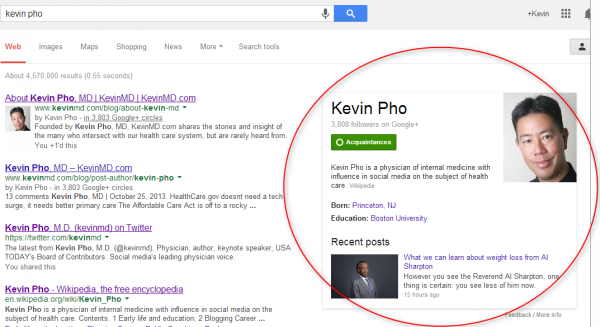 But any friction whatsoever prevents the majority of physicians from defining themselves online. From talking to doctors across the country, many are petrified of taking even minimal steps to be visible online.
Which brings us back to LinkedIn.
While it isn't perfect for the reasons Howard mentioned, LinkedIn is a low-threat, low-resource, high-yield action.
I acknowledge that there are tradeoffs involved, and after considering those, continue to recommend it as a reasonable first step to establish a physician's online reputation.
Kevin Pho is an internal medicine physician and co-author of Establishing, Managing, and Protecting Your Online Reputation: A Social Media Guide for Physicians and Medical Practices. He is on the editorial board of contributors, USA Today, and is founder and editor, KevinMD.com, also on Facebook, Twitter, Google+, and LinkedIn.