To almost every claim that the American healthcare system is overpriced, defenders of the United States can point to the comparison problem — it is not fair to compare American surgeons, or hospitals, to our peers in Europe when American surgeons and hospitals are not the same as in those other countries.  Our surgeons are better trained, the defenders retort, and our hospitals offer higher quality care.  When quality measures suggest otherwise, defenders can point to the inherent difficulty of measuring quality while adequately adjusting for the severity of patients' underlying illnesses.  Comparing American healthcare institutions to those in Europe is like comparing apples to oranges (with America representing the apple portion of that comparison, of course — nothing more American than God, baseball and apple pie!).
A study of drug prices in the U.S. and Europe published last spring avoids the apples to oranges problem, and provides compelling evidence that we have a real price problem here in the U.S.
The researchers looked at medication prescriptions between 2005 and 2010 in six countries: Australia, Canada, France, Germany, Switzerland and the United States.  They only studied branded drugs, ones which were still under patent protection.  And they limited their study to the 68 most popular drugs, which made up about half of all prescriptions over that time.
And what did they find?  First, as shown in the figure below, the average price of prescriptions rose dramatically over that time: it rose 84% in Canada, 81% in the U.S., and 79% in Germany (although it rose less than 50% in the United Kingdom and Switzerland).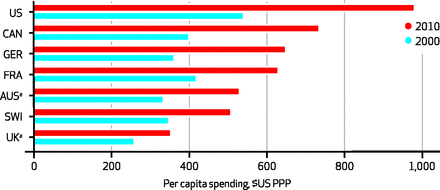 Second, the U.S. started with the highest prices and continues in the lead.  Indeed, because the U.S. started with the highest prices, and increased as fast or faster than other countries, the differences in prices between the U.S. and those countries increased over time.
A more detailed analysis showed that the relative increase in U.S. prices was driven largely by the kind of drugs known as "biologics."  Over this five year period, the U.S. saw a 181% increase in the average price of prescribed biologics, an increase that dwarfed other countries.  In the United Kingdom, for instance, these prices rose "only" 61%.  In addition, the researchers discovered that U.S. physicians were the quickest group to prescribe these biologics when they arrived on the market.
One reason U.S. physicians are so quick to adopt these medicines is because the U.S. regulatory system is quicker to make them available, a finding demonstrated by another study.  The researchers explored insured patients' access to new cancer drugs.  In the U.S., the FDA must deem a drug safe and effective before allowing it on the market.  But at that point, there are no economic barriers to the use of those medications.  By contrast, drugs in the United Kingdom must go through economic analyses by a unit known as NICE — United Kingdom's National Institute for Health and Clinical Excellence.  Being safe and effective is not enough to pass muster with NICE.  The drug must also be cost effective.  As shown by this figure, such economic evaluations take time: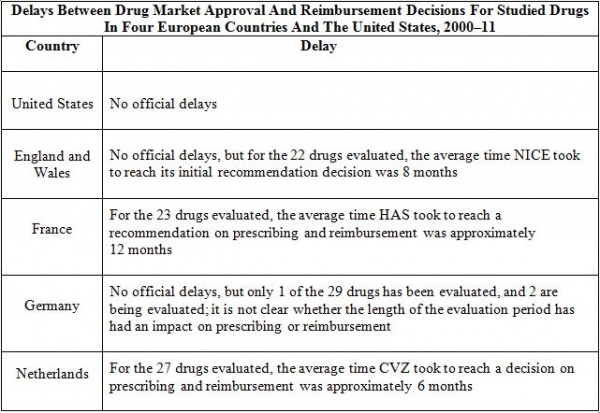 Sometimes, in fact, such evaluations show a drug to be too expensive to qualify for reimbursement under the National Health Service.  It is these kinds of cost effectiveness thresholds that explain some of the price differences between the U.S. and other countries.  The easiest way to improve the cost effectiveness of a medication is to lower its price.  Should the U.S. follow the lead of its European (and Canadian) colleagues?  Should we demand proof of cost effectiveness before allowing drugs on the market?  Or before agreeing to pay for them in Medicare and Medicaid?  Doing so would undoubtedly reduce healthcare expenses.  With medical spending threatening our fiscal future, it makes no sense that Medicare is prevented by law from considering the cost of care when making coverage decisions.  You heard that right — forbidden by law!
To those who argue that the pharmaceutical industry relies on the U.S. for its profits, I say we are not running a corporate welfare program.  To those who correctly point out that if industry profits decline so too will the incentive for industry to innovate, I reply that we cannot afford the luxury of unrestrained healthcare spending.  We need to find a balance between paying the kind of prices for new technologies that will spur innovation, without spending ourselves into bankruptcy.
Finding that balance might require us to pay more attention to our European and Canadian colleagues, and their efforts to promote the use of cost effective medications.
Peter Ubel is a physician and behavioral scientist who blogs at his self-titled site, Peter Ubel and can be reached on Twitter @PeterUbel.  He is the author of Critical Decisions: How You and Your Doctor Can Make the Right Medical Choices Together. This article originally appeared in Forbes.