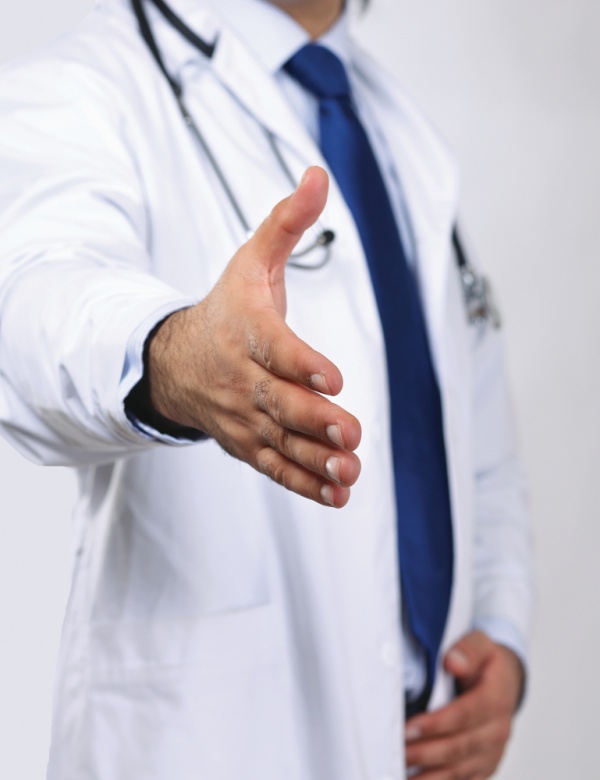 Part of the KevinMD toolkit series.
"How can I find a doctor online?"
A seemingly simple question, but patients are often confronted with too much information on the Internet, with variable quality.
Finding a doctor a similar to completing a puzzle.  Like puzzle pieces, there are many resources available, including word of mouth, hospitals, insurance companies, and physician rating sites.
Don't rely on a single resource, but use them to complement each other.  The information available online should lead you to a reputable physician.
Here are some Internet resources to help find a doctor online and research the right doctor for you.
Step 1: Find a doctor online
There are several ways to come up with a doctor's name online.
Google web search.  The simplest, most direct method. Use keywords like [city], [state] with "doctor," "primary care," "physician," "cardiologist," and the like.
For instance, if I were a new patient looking for a primary care doctor in Nashua, NH, I'd type something like "primary care doctor, nashua nh," and which would yield a few leads to local hospitals and medical systems to get you started: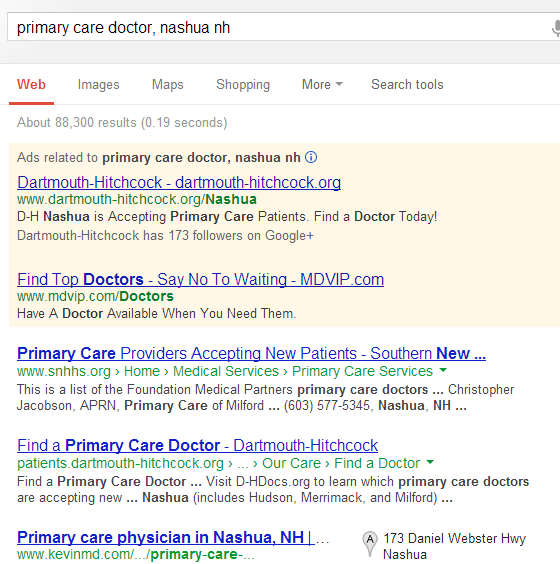 Your local hospital.  Hospital websites generally have a "find a doctor" page, where you can browse through a physician directory with contact information.  Not sure which hospital to choose?  Use Medicare's Hospital Compare where you can compare hospitals based on patient survey results and objective quality measures.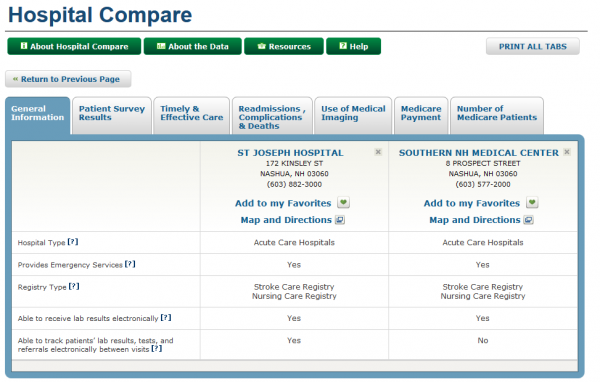 Online physician directories.  There are dozens to choose from, summarized nicely on this Medline Plus page.  It is particularly strong in consolidating dozens of "find a doctor" pages from the specialty societies.  So if you're looking for a cardiologist, pulmonologist, gastroenterologist or surgeon, start there.
For primary care doctors, I would choose the American Medical Association's DoctorFinder.  Keep in mind that AMA members show up first when queried.  It takes a few more clicks to view non-AMA physicians.
Your health insurer. Your health insurer website has online physician directories that, of course, accept your particular health plan.  Some tier doctors based on quality measures and whether they practice cost-effective medicine.
Step 2: Research your doctor on the Internet
Now that you have a name, how do you know if your doctor is right for you?  A patient-physician relationship today is more like a partnership.  And like any partner, a doctor who's great for one patient may not be the right fit for another.  Here are some ways to determine whether your new doctor is a good match.
Determine board certification.  Critical.  Board certification has generally been shown to be associated with quality of care.  The American Board of Medical Specialties created Certification Matters where you can input doctors' names and determine whether they're board certified in any specialty.
Find out any disciplinary action. You'd want to know whether your new doctor has been disciplined by a medical board, or involved with malpractice cases.  While the availability of that information can vary from state to state, your state's medical board is a good place to begin.
The Federation of State Medical Boards (FSMB) has also created DocInfo, where you can purchase a physician profile that includes disciplinary action.  According to the FAQ:
Whenever disciplinary information exists, this report will provide the name of the state medical board or licensing agency that initiated the action, what type of disciplinary action was taken (such as a license revocation, probation, suspension, etc.,) the date of the action and the basis or reason(s) for the action. The FSMB Physician Profile does not include information on medical malpractice settlements or claims.
The FSMB Physician Profile costs $9.95.
Do you have Medicare? Go to Medicare's Physician Compare to find out if your doctor takes Medicare.
Determine prescribing patterns. Using information from Medicare Part D, ProPublica compiled the data and created an extremely handy searchable database: Prescriber Checkup. A wealth of information here, including how a provider compares to others in the same specialty and state, average prescription price, and a prescriber's top-ranked drugs next to each drug's rank among all prescribers in the same specialty and state.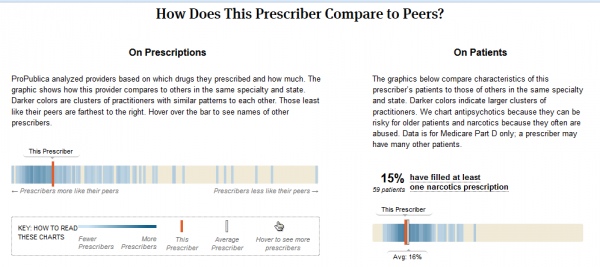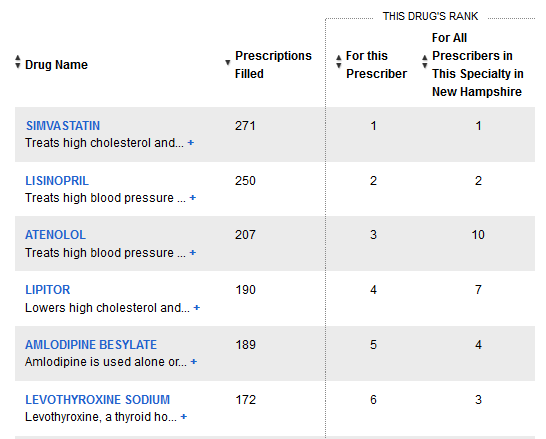 Physician rating sites. In general, online physician ratings are fragmented across dozens of sites, with most physicians having only a handful of reviews, if any at all.  I wouldn't rely on rating sites by themselves, but they can be a useful complementary piece.  Several rating sites having uniformly poor reviews on a doctor can be a red flag, for instance.
The Informed Patient Institute has a tool that reviews and ranks these sites based on whether they're for-profit or not, and how useful they are to patients.  Use this as your starting point when wading into the pool of online physician ratings.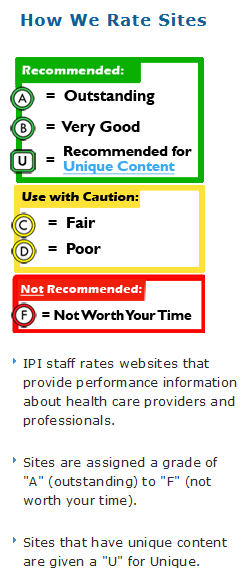 In Massachusetts, the Massachusetts Health Quality Partners and Consumer Reports pooled over 50,000 patient surveys from primary care and pediatric offices and presented the data in a searchable database.  If you're looking for a primary care doctor or a pediatrician in Massachusetts, start here.
Google your doctor.  This is a necessity.  Often times, doctors won't have a large digital footprint, and what comes up are their profiles on physician rating sites.  But sometimes you'll find the website of their practice, where you can get a better sense of how the office runs.  Other times, you'll find their social media presence, such as a LinkedIn profile or a Twitter feed.  A LinkedIn profile is useful, since it's an online CV of your doctor.  A Twitter feed can reveal a little bit of your doctor's personality, and probably is the closest to hearing him "speak" before meeting him.
And on occasion, you'll see your doctor's mainstream media exposure: newspaper articles and television appearances.  Or stories written about him, positive or otherwise.
What shows up on your doctor's Google search can tip your decision one way or the other if you're on the fence.
Step 3: Put together the puzzle
Once you have researched your doctor online, use that information in conjunction with other sources.  Word of mouth from your friends or calling the practice yourself with questions.
Although not always possible, meet the prospective physician before making your choice.  As with any partnership, not all of them are going to work out.  It's critical to see if your personalities, values, and philosophies of care match.  That requires a face to face visit.
But with the amount of information available online, you'll be far better prepared before that first meeting with your new doctor.
Kevin Pho is co-author of Establishing, Managing, and Protecting Your Online Reputation: A Social Media Guide for Physicians and Medical Practices. He is founder and editor, KevinMD.com, also on Facebook, Twitter, Google+, and LinkedIn.
Image credit: Shutterstock.com