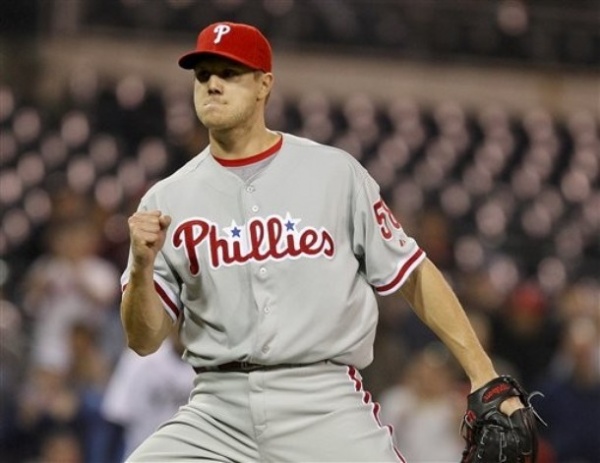 Former Boston Red Sox closing pitcher Jonathan Papelbon may have opened up a can of worms with his remarks about his frequent use of the injectable anti-inflammatory drug Toradol (ketorolac) during his time with the Red Sox.
Papelbon, who now plays for the Philadelphia Phillies, told ESPNBoston.com that several Red Sox players were frequently injected with the drug:
"It was kind of a word-of-mouth thing.You got in the clubhouse and said, 'Man, I feel like crap,' and somebody would say, 'Oh, you should get a Toradol shot.' All players talk about what gets you through a 162-game season."
Papelbon played with the Red Sox from 2005-2011. He reported that he started using Toradol in 2007, the year the Red Sox won the World Series, and subsequently used it about once a month. According to Papelbon, "It made me feel better. You had to get it about 30 minutes before a game, and it made me feel pretty damn good. It only lasted about 4 hours maximum."
Papelbon stopped using Toradol when he joined the Phillies. He was told that they "didn't do that here."
Toradol is the same anti-inflammatory medication that Red Sox pitcher Clay Buchholz believed contributed to his hospitalization in June 2012. Buchholz spent 5 days in the intensive care unit at Massachusetts General Hospital for esophagitis associated with bleeding. He had to be transfused with three to four pints of blood.
But it's not just the Red Sox. New York Mets pitcher R. A. Dickeywas given intramuscular injections of Toradol before a dozen starts after he sustained a partial tear in his right plantar fascia last May. Dickey told the New York Times, "It certainly helped, especially in the first months after the injury. I don't think it's a panacea, but it helps you get where you have to go."
Lest you think the issue exists only in baseball, in December, a dozen ex-players filed a suit against the National Football League (NFL) for what they call excessive use of Toradol, making it harder for players to realize when they had suffered a concussion. The suit alleges:
"The plaintiffs have described the situation as one of being in a pregame locker room with players lining up to receive injections of Toradol in a 'cattle call' with no warnings of any sort being given, no distinguishing between different medical conditions of the players, and regardless of whether the player had an injury of any kind."
The use of Toradol became popular in professional sports about 10 years ago. Although it is not known how many athletes have used it, is it clear that Toradol is being used in a broader way than for post-injury pain. Many players are given the medication prophylactically before games.
An article in the The New York Times in April 2012 spoke about the growing concern about Toradol's overuse in professional sports. They quote Dr. Scott Rodeo, a team physician for the New York Giants:
"In the [NFL], Toradol 'became prevalent to the point where players expected it and used it prophylactically.' Some players 'barely think of them as medicine.' "
What is Toradol?
Toradol is the trade name for ketorolac, a non-steroidal anti-inflammatory drug (NSAID) in the family of heterocyclic acetic acid derivatives.
The primary mechanism of action responsible for ketorolac's anti-inflammatory, antipyretic and analgesic effects is the inhibition of prostaglandin synthesis by competitive blocking of the enzyme cyclooxygenase (COX). Ketorolac is a non-selective COX inhibitor.
Ketorolac is available in oral (tablet or capsule), intravenous and intramuscular preparations and an ophthalmic solution.
It is indicated for short-term management of moderate to severe pain, usually after surgery. According to the package insert, the maximum duration of treatment should not exceed 5 days for tablets, or 2 days for continuous daily dosing with intravenous or intramuscular formulations.
Concerns about the high incidence of reported side effects led to restriction in its dosage and maximum duration of use. In the UK, treatment should be initiated only in hospital.
The most serious risks associated with ketorolac are, as with other NSAIDs:
gastrointestinal ulcers, bleeding and perforation
renal events ranging from interstitial nephritis to complete kidney failure
hemorrhage
hypersensitivity reactions (including Stevens-Johnson syndrome)
A study by Rodriequez et al. in the Arch Internal Medicine (January 1998) determined that people who used Toradol had five times greater risk of upper GI bleeding requiring hospitalization compared to non-users.
Boston Red Sox pitcher Jon Lester recently told ESPN's Gordon Edes that Sox management is reviewing its Toradol policy. Lester admits that he has been given Toradol "quite a bit" over the past few years, but told Edes:
"It's good they're looking into it. As players, though, we just think it's a bigger Advil, a stronger Advil….  I think guys use it more for getting loose, and for comfort level, than masking pain."
This might be the most telling statement of all. Players don't seem aware of the potential side effects of Toradol and the full extent of the risks they face when using it.
Seems like all professional sports teams need to re-evaluate their policies.
Michele Berman is a pediatrician who blogs at Celebrity Diagnosis.