During a routine office visit, I was discussing activities and extracurriculars with a bright 10-year old girl. She loved talking about her dance team, gymnastics, and her new hobby of horseback riding.
Towards the end of our conversation, however, she said something that surprised me: "And, I am addicted to Pinterest."
I turned to her mother, who was also in the exam room, and asked, "Did you know she is on Pinterest? What does she look at?"
Her mother said, "Oh, yes. I help her set it up. And, the stuff she looks at is OK. She likes arts and crafts, and looking at hairstyles. Sometimes she shares ideas with me."
Her mother's reply concerned me because I think it reflects a common internet misconception. Many parents believe social media sites are suggested for children over 13 years based on the network's content, like a PG-13 movie. However, this is NOT true.
Users of social media sites must be 13-years old by Federal law.
I believe parents should actively enforce the age restriction on social media sites for 4 reasons:
1. A child under the age of 13 years (U13) is protected by the Children's Online Privacy Protect Act (COPPA). Essentially, COPPA protects a child's personal information from being collected and shared.
These legal protections are being updated to include online data tracking, geolocation, photos, videos, and information available 3rd party advertising networks.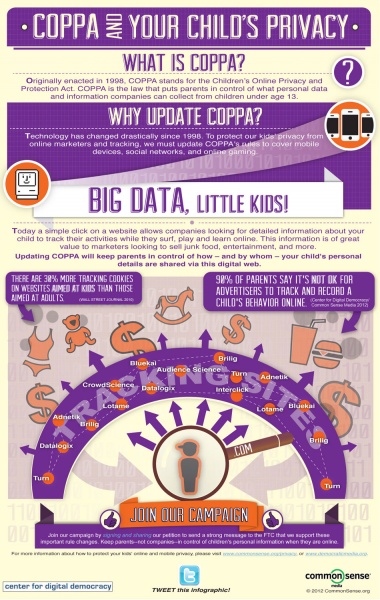 Creating an account for a child U13, using a false date of birth, circumvents the Federal law intended to protect your child. The consequences? The social networks, and all the information your child provides it, are completely out of your control.
Not everyone agrees in the protection COPPA laws provide. Specifically Zuckerberg, who is a well-known opponent of COPPA. He argues children need online involvement from a very early age, and COPPA laws restrict the opportunity for education. In addition, others have believe that COPPA laws decrease a child's protection online. They argue that if COPPA did not exist, fewer children would lie about their age, therefore allowing more adequate online protection based on their actual age.
Despite this opposition, however, the social networks are required to strictly enforce COPPA. In fact, If you know of a child under the age of 13 with an active profile, you may report the account to the social network and the account will be closed.
2. Kids know the U13 rule. So, if you, as a parent, falsify your child's age to create an account, you are actively providing a foundational example that is it OK to lie on the internet. You are suggesting to your child that the rules do not apply to them. That they have an "exception." I don't believe this is the correct message to be sending. Teaching appropriate boundaries and limitations on the internet are of paramount importance. Parents should be providing an example of ethical and responsible internet citizenship. This means enforcing the rules.
3.  Children U13 do not have the intellectual or emotional maturity to handle many social media themes. Pre-teens are just beginning to navigate the challenges of real-life social interactions. In turn, they do not have the experience or the reasoning needed to correctly respond to online social exchange. Pre-teens are also increasingly becoming victims of online harassment, solicitation, and cyberbullying. Allowing a child U13 on a major social site is only prematurely increasing this risk.
4. For children U13, there are safer alternatives. Learning how to navigate and interact on social media sites is an important skill set. Kids need to learn responsible internet citizenship. Fortunately, there are other pre-teen social network options that allow this education, connection, and fun; but also provide legal protection. This list provided by Common Sense Media reviews some of the most popular pre-teen sites.
In a world increasingly connected, we are heading into an untamed wilderness. The long-term repercussions of today's 10-year old's online profile is essentially unknown. In my opinion, a large part of allowing a child's permission to participate online is a parent's responsibility to be actively involved. This includes enforcing legal age restrictions with an appropriate explanation to your child, while offering appropriate alternatives for their learning and enjoyment.
Natasha Burgert is a pediatrician who blogs at KC Kids Doc.