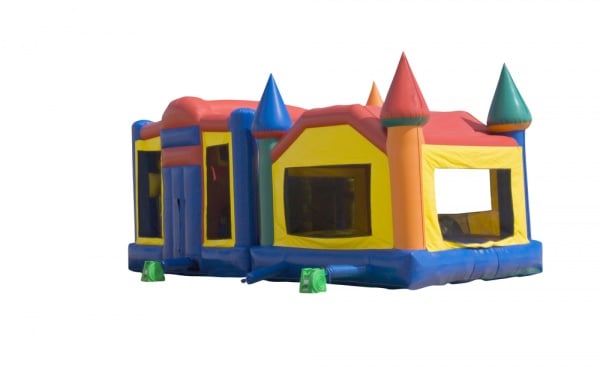 For around four years in a row, starting around 1996, my husband and I rented one of those inflatable bouncy houses for my son's birthday party every August. We invited a whole bunch of his friends and cousins to bounce in it for a few hours (and let them play in the sprinkler and fed them cake). Nobody got hurt.
Which, in retrospect, was kind of amazing.
In a report from the journal Pediatrics, researchers report that between 1990 and 2010 about 65,000 children were treated in US emergency rooms for injuries they got in bouncy houses. That's about 31 kids a day. The number and rate of injuries increased fifteen-fold over that time period.
The vast majority of those injuries were fractures or sprains, usually of the arms and legs. Luckily, only three percent required hospitalization. And while the injuries spanned the age range, more than half were in six- to twelve-year olds, with most of the rest being in younger children.
The injuries happened in all sorts of different ways. Most of them were caused by falls (often by falling out of the bouncy house), but kids are always creative in how they get hurt, and bouncy house injuries are no exception. Pushing and pulling caused a bunch of injuries, and kids crashed into each other and fell on top of one another too.
We did our best to have rules during the birthday parties. We limited the number of kids bouncing at any one time. We didn't allow flips. We kept a grownup stationed nearby to monitor for roughhousing.  We kicked kids out if they were behaving badly. We weren't perfect at enforcing the rules—there was a limit to the ability of two people to supervise twenty or so kids all over a yard, and the other grownups were not always invested in helping us out—but we did it well enough that there were no trips to the emergency room after any of our parties.
I don't regret having those parties. My kids have a lot of great memories from them. And bouncy houses are hardly the only or most dangerous activity out there for kids. According to the Centers for Disease Control, every year 500,000 people go to emergency rooms with bike injuries—and we're not telling kids to stop biking. We can't put kids in bubbles, and learning to manage risky situations is part of growing up.
But with bikes, we have helmets, and rules of the road for bikers. It's those safety rules that are missing when it comes to these "inflatable amusement devices."  The authors of the study say that we really need to come up with those rules, given all the bouncy house injuries. They suggest that the safety rules be similar to those we have for trampolines, since the injuries are very similar.
The American Society for Testing and Materials has some guidelines, although they are pretty general and vague. The Consumer Products Safety Commission has recommendations that are more specific, although they are more aimed for people who run fairs, etc, than parents.
While we come up with the safety rules, the best thing you can do is use common sense:
Always follow the manufacturer's directions and safety guidelines
Be particularly careful with children under the age of six–might be better to avoid bouncy houses with them entirely
Keep numbers down (they vary in size, so it's hard to give a specific number). Everyone should be able to have their own personal space.
Make sure kids keep body parts to themselves (the point of the personal space)
No flips or other stunts.
SUPERVISE. Make sure that you have enough grownups to do this (and make sure that they will enforce the rules)
Have a zero tolerance policy for rough-housing or other dangerous behavior. Consider using a whistle or something like it, the way lifeguards do.
As for me, I think I'm done with renting bouncy houses for birthday parties. I dodged the injury bullet for four years; I may have used up all my luck. Not that my youngest (the only one we'd do it for, at this point) will care; he doesn't like bouncy houses.
Smart boy.
Claire McCarthy is a primary care physician and the medical director of Boston Children's Hospital's Martha Eliot Health Center.  She blogs at Thriving, the Boston Children's Hospital blog, Vector, the Boston Children's Hospital science and clinical innovation blog, and MD Mama at Boston.com.
Image credit: Shutterstock.com