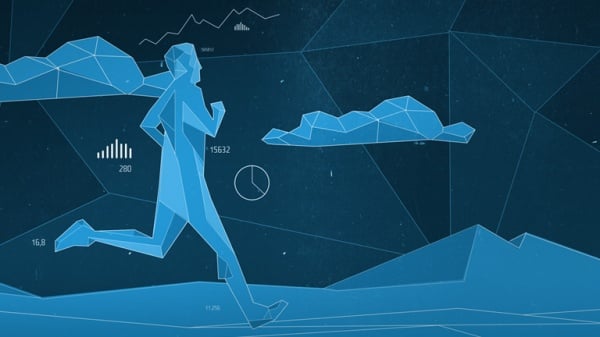 Happy New Year!  It's 2013!  Time for us to embark on ambitious health and fitness resolutions we have no intention of keeping past March!
Here to assist us with our resolutions are a collection of fitness devices and apps that will help track our heart rate, sleep cycles, calories burned, steps walked, mood and much more.  Data from these devices can be stored, displayed graphically, shared with friends, and if we were really determined, shared with our physicians.
As a primary care physician, I am very excited about the self-tracking movement.  I love the idea of people being enthusiastic about their health and using technology (or just a pen and paper) to gain insight into their behaviors and habits.  You can't change what hasn't been measured, right?
However, now there's talk of bringing that self-tracking data into the exam room and having it stored in our electronic medical record.  Self-tracking evangelists see the movement as integral to the future of personalized medicine and patient engagement.  They tell us we're on the cusp of a revolution in patient empowerment, allowing physicians to use data about our bodies to help us liver healthier and happier lives.
Whoa. Let's slow down.  I can see how people in the self-tracking movement would be enthusiastic about "medicalizing" their data, but I see a few reasons to temper expectations:
1. There's not strong data to support self-tracking.  We can make some inferences about how self-tracking would work in a clinical setting by looking at the studies done on telemonitoring, which also generates a large volume of attribute-rich data.  Some studies have shown benefit in outcomes, especially for diseases like diabetes, COPD, and hypertension.  However, hard measures like mortality have not been improved by telemonitoring devices.  Data on hospitalization and ED visits, especially in the elderly, have been mixed.  People (especially the engineers who created these wonderful devices and apps) love to think that more data points are better. But to date, we just don't have a robust set of well controlled studies telling us what self-tracking is useful for, what devices or apps to use, how to interpret the data, or how to integrate it into medical care.
2. Physicians may not want the data.  Imagine that a 45-year old man who had just started exercising after years of inactivity gives their doctor all of their heart rate measurements from the past month.  All 5000 measurements.  There's no way their physician is going to want to touch that data.  Buried inside those data points will be erroneous and clinically meaningless measurements which, without review and context, will be fodder for trial lawyers when something bad happens.  It's data overload to the Nth degree, because let's face it … anything can be tracked.  Once data gets put into the medical record, it's assumed the physician has reviewed the data and acted on it accordingly.  No one wants something in the patient's chart that not only has limited medical use but carries substantial legal risk.
Finally, we need to pay physicians to analyze and counsel about the data, similar to how we pay for EKG interpretation or reading an x-ray.   Fee-for-service still rules the roost, and nothing gets done unless someone pays for it.   Any thoughts on why so few physicians use email, even though it's been around for decades?  Wanna guess how much Medicare or any other major insurance provider pays for email use?
My New Year's resolution is that I'm going to keep my self-tracking data to myself.  No posting on Facebook.  No sharing with my doctor.  Self-tracking has the potential to increase mindfulness of our body and our reactions to the environment.  And what's great is that this can be done in a very private and nonjudgmental way.  At some point in the future, self-tracking in medical practice will be ready for prime time.  But until then, let's not medicalize this incredibly reflective process just yet.
Keegan Duchicela is a family physician who blogs at Primary Care Next.