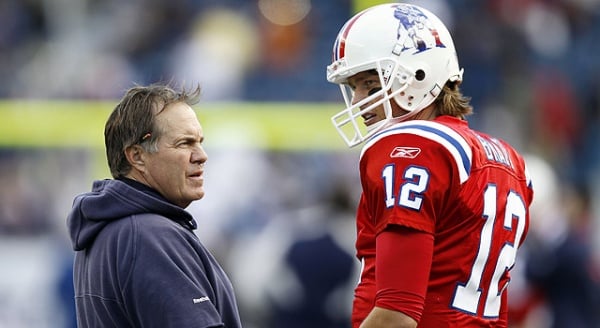 It is always a treat, particularly when living on the West Coast, to watch the New England Patriots football team play on national television in their home stadium, Foxborough, Massachusetts. On Monday Night Football, the match-up was between the Patriots and the Houston Texans, which had the best record in the AFC and undefeated in all away road games. As previously posted, there is much health care can learn from the mastery of execution led by head coach Bill Belichick and quarterback Tom Brady and many others.
It continues to be a story about leadership, a culture of excellence, loyalty, and setting high expectations. Although a regular season game, the story unfolds as the Texans with one of the NFL's best records entered Foxborough wanting to make a statement of their arrival among the elite teams and the Patriots, a team with a tradition of consistently high performance and excellence.  Not surprisingly the football analysts split evenly on who would be the victor.
As the evening progressed on, it became clear.
It is all about leadership, passion, humility, and loyalty. With health care becoming larger organizations with insurers and hospitals purchasing doctor practices, the creation of Accountable Care Organizations, and the move to "Big Med" as coined by Dr. Atul Gawande in his New Yorker piece, "Can Hospital Chains Improve the Medical Industry," the real questions are – What is the value of leadership? Who should lead?
Leadership at the Patriots starts from the very top with the tone and direction set by owner Robert Kraft which he demonstrates in a recent Boston Globe piece. The spoke about "Spygate" and how Belichick and the Patriots were discovered to be secretly videotaping their opponents plays and signals, a violation of NFL policy.
"Everybody has their idiosyncrasies, but if there is trust, that's the key in business, in marriages," Kraft told [New York Daily News Columnist Gary Myers] during a 2010 dinner. "You build a sense of trust so you go through rough times. Look what happened with this bogus thing with the Jets. I stood by him pretty darn good. That was rough."
"How much did this help us on a scale of 1 to 100?" Kraft asked Belichick.
"One," Belichick replied.
"Then you're a real schmuck," Kraft said he told Belichick.
"He would take every edge he could get but he would never knowingly break the rules or cross the line," Kraft said. "I know him. I'm not saying he was a choir boy."
In other words, hiring the right people, standing by them when they make mistakes, and then engendering trust, even when very difficult, is crucial to have a high performing team. Professor Amy Edmonson of Harvard Business School notes that if organizations are to win, they need a culture of psychological safety. People feel safe to speak out and are heard.
When the last time, doctors and more importantly support and ancillary staff felt heard?
Leadership comes from head coach Belichick, who with all of his idiosyncrasies, does listen intensely, in heavily involved in operations, and very thoughtful on who to hire. He is exceptional in all of these areas. As ESPN analyst and former NFL head coach Jon Gruden noted,
"Bill Belichick  doesn't still get enough credit. He's not one of these coaches that says here you run the offense, you run the defense, you run the special teams. He could call the whole game himself. Offense, defense, special teams. Maniacal work ethic. The work he does to find players is uncommon… They go to an incredible amount of work to find players that fit the Patriot Way. They are all versatile. It allows him to attack each opponent differently… Every year…
… Everybody talks about how smart he is. What a great listener he is. I'll tell you this Mike. He takes input from wherever he can get it. Always in search of ideas. he may not always use them. But he;s always searching for ways to get better and improve his team.
[Mike Tirico, ESPN announcer]  – You mean from assistant coaches, younger assistants that develop through the staff?
[Gruden] – I'm talking about every facet of the game. From personnel, offense, defense, special teams. You heard him talk to Chip Kelley. You've read about the coach coming down from Oregon to improve his tempo. Who knows what. On the cutting edge of the game."
Do we in health care have leaders who listen, are deeply involved, hire the right people, and are passionate to the point of being fanatical to strive to be the best? All ideas from wherever are welcome? If health care is to transform, we need to be on the cutting edge and think different. Belichick has been known to show his players film from a high school punting unit to demonstrate the best way to execute the play. He is showing NFL professionals film from a high school punting unit!
Then of course there is the on the field leader Patriots quarterback Tom Brady. Much like a doctor who is delivering the care and executing the plan, how is he when it comes to preparation? Is it about him or about the team? Note a few interesting statistics.
Since 2001, lead by Bill Belichick and Tom Brady, the New England Patriots have had 9 playoff appearances, have been the #1 or #2 seed 6 times and with 5 Super Bowl Appearances, and clinched their 10th playoff appearance.
Tom Brady has 133 regular season wins as starting quarterback under Bill Belichick, the most by a quarterback / head coach combination in NFL history.
Most wins as a starting quarterback (including the postseason), Brady had his 150th victory of his career, the only fifth quarterback to reach this milestone in 194 starts. The fastest in NFL history.
Since 2003, the Patriots have won 10 or more games every consecutive year, the second longest record in NFL history (the record held by the San Francisco 49ers 1983 to 1998 for a 16 year streak).
In a society which seems to value mobility and changing jobs every few years to find the next best thing, loyalty to an organization or cause seem passe. Yet for a decade, Belichick and Brady working together and often with very different players annually make it work. Brady set an example with his dedication and leadership; it shows on and off the field. He is as fanatical, passionate, and focused as his head coach.
Tom Brady has won 10 division titles, the most of any starting quarterback in NFL history. Brady surpassing Joe Montana and Peyton Manning, each with 9.  Gruden – "He is obsessed with football. He is always getting better."
Although Brady is in the top 5 of quarterbacks with most games with four or more touchdown passes at 18 and trailing leader (retired Packers quarterback) Brett Favre with 23, Tirico noted:
"Favre towards the end, it was the preparation. Favre loved the game. It was the preparation that drove him nuts. The preparation drives Brady. He absolutely loves the research project that every week's challenge brings. Even to this day."
And ESPN analyst and former San Francisco 49er Steve Young noted at the end of the game,
"Tom just ran by here and just says we missed a bunch more. [laughs]. So many plays we wanted it to be 82 to 14…. We watch every Monday night. We watch quarterbacks. There is a significant difference between Tom Brady and really anyone else I've seen this year…"
"Nobody is more accurate. Nobody. I mean really. No one can put that football and all the throws exactly. Not a little bit off, but exactly … I feel like watching Tom tonight was a pleasure. As an old broken down quarterback watching him play, you just thought this was the best of this generation… Watching him tonight, I just thought to myself I don't know that I've seen anyone do more things better than Tom Brady has done tonight… But that's Tom. The first thing he thinks about when he wakes up every morning is – 'I was a sixth round draft choice. I'm going to show them that I'm not'  – he's still thinking that. That's the nature of who he is. It's relentless.
And look at what [Vince Wilfork defensive tackle and defensive captain] said when he was out here. 'I'm going to watch film'… It's the culture of the place. this is the greatest organization locker room consistently and why are they so great for 12 to 15 years. It's because of the group of people leading them.
It is the players on the field. The field leaders who ultimately create the culture of excellence. Their fanatical preparation. Their desire to do what is right for the team, not just the individual.
In health care, who are the people on the field? Who are the ones doing the plays?
It's the doctors. It's us.
Yet how many of us want to be the leaders and step up? It's in our medical culture not to step into leadership roles. In the best article I've come across, "Challenges for Physicians in Formal Leadership Roles: Silos in the Mind" by Thomas N. Gilmore, he notes:
Because [doctor] training inculcates values of autonomy, learning from experience, and professional distance, physicians see a team (managerial) approach as 'other' and distance themselves from those colleagues who take up formal leadership roles.
The consequences are ambivalence and splits, both among leaders and within individuals who accept such leadership roles. A maladaptive strategy is often silos in the mind, in which the different bodies of knowledge (clinical and business) are kept too separate, with the latter denigrated. Yet, many of the current challenges require closer linking of substantive medical knowledge with sophisticated organisational and managerial knowledge to invent and implement new systems…
… No talented surgeon would enter the operating room without scrubbing, reviewing all the available diagnostic information, and checking the infrastructure and the team's readiness. Yet, that same surgeon, as a chair going into a meeting, will grab a folder from his secretary and skim it en route to the conference room three doors down from his office and begin a meeting with no acknowledgement of absent members, and differentiating between those who, respectful of community life, informed the leader and those who simply did not turn up. The leadership of the meeting often ignores the interdependency of the various items to one another and to the overall well-being of the institution.
What Langer (1989) calls 'mindfulness', when brought to the adaptive challenge facing academic medicine, will go a long way to bringing the inherent intelligence and aggression in physicians core training to the leadership task.
In other words, doctors can be great leaders if they have the mindset that they deserve to be there as leaders.
Organizations that will win in this new era of health care will be those led by doctors. Sure on paper an Accountable Care Organization should be like another ACO. They should perform equally as well. On paper. As the Patriots and Texans game concluded the post game analysis by ESPN commentator Trent Dilfer and ESPN sportscaster Suzy Kolber says it all:
[Dilfer] – "I'm shell shocked because I could of thought of a lot of different outcomes for this game. It's a balanced match-up on paper. And you're looking all week long. I could not have imagined this outcome. 42 – 14. An absolute railroad job the Patriots did to the Texans."
[Kolber] – "It was a match up of the AFC's best. The Texans no match for the Patriots machine. – unbeatable at home in December. They have been the face of NFL success for the past decade and the dominance continues."
Oh, by the way, how did the excellence for the past decade start for the Patriots? Would you have expected it to be led by a head coach who prior to joining had a losing record? Robert Kraft knew. Would you have expected it to be led by a quarterback who was drafted in the 6th round at 199th? Bill Belichick knew. Would you have expected it from a team whose personnel changes on an annual basis, yet somehow manages to make the post season consistently and has a legitimate shot at the Super Bowl every year? Tom Brady knew.
It is their passion that says I belong here. I will work harder than others to prove I belong here.
And the Patriots never looked back.
If doctors choose to become leaders. If we choose to say we belong here, then there is no doubt we will succeed in fixing health care. Physician leadership matters. We need to step up. Our patients need us. When we do so, health care will never be the same.
And we as a nation will never look back.
Go Pats!
Davis Liu is a family physician who blogs at Saving Money and Surviving the Healthcare Crisis and is the author of The Thrifty Patient – Vital Insider Tips for Saving Money and Staying Healthy and Stay Healthy, Live Longer, Spend Wisely.