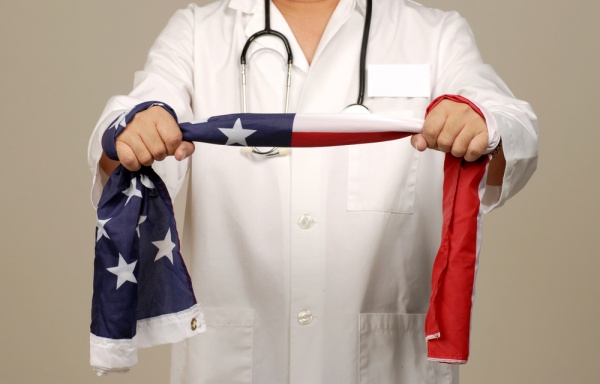 The 2012 Presidential election is over. Obamacare is the law of the land and is certain to remain so.  There was tremendous uncertainty not knowing whether the law would be repealed, revised or remain.  Many of us opposed the bill, and there certainly are negatives.  Like it or not, it is time to "get over it," and not a second later than now.  The new-found certainty offers an opportunity to reassess and adapt to the coming changes.
In addition to Obamacare, other pillars of our "new normal" include patient satisfaction surveys, threats of reimbursement cuts, increasing pressure from administrators obsessing over "metrics," more time drained by cumbersome electronic health records, resentment from patients who blame us for the failings of the healthcare system, as well as a steady stream of frivolous lawsuits with no end in sight.  It's time to adapt to our "new normal."
Comparing and contrasting with other industries
In this modern age of Medicine, these factors have been piled on top of the traditional responsibilities of physicians such as life and death, health and wellness, and paradoxically have seemed to rise above them in importance like unstoppable flood waters drowning the ghosts of Hippocrates, Osler and Marcus Welby M.D.  This contributes to poor morale among physicians and understandably so.  Other industries have had to deal with the same concepts for decades, however.  The service industries are bound by "patient satisfaction" measures and always have been.  Businessmen also have to guard against lawsuits. They expect them and manage the risk and accept it as a norm. I doubt they perceive a lawsuit where they did nothing wrong, as life altering like so many physicians do.  Companies often times have decreases in sales just as our reimbursements may drop and constantly have to adapt.  Just about everyone else in the "real world" has to deal with a "boss" of some variety and a necessary part of their job is to keep that person or entity happy, regardless of whether they like them personally or not.  So why do we find it so difficult to deal with such factors?
Are we special?
Are we different?
In a word, "No."  Not anymore.  It's time to accept that fact and move on.  We are now cogs, replaceable de facto employees of a massive business-medico-legal-political machine; nothing more.  All indications are that it will remain this way.  Much can be learned from such other industries that have had to adapt to the stark realities ahead of us.  I think for the profession of Medicine to reinvigorate itself, and for us to truly value what we do have again, we must properly manage expectations.
What government will (or will not) do
Though we might each individually be very replaceable, the reality is that we still have extremely high paying jobs in a profession that is relatively recession proof with greatly increasing demand for our services. There are some other positives and ironic realities that I think many physicians are glaringly overlooking.  One is that Obamacare proposes to commit about 1 trillion more dollars towards healthcare over the next 10 years, with tens of millions newly insured.  Necessarily, demand for our services will go up, way up.  And the best (or worst) news is that despite all the talk about "severe rationing" and "draconian reimbursement cuts" there's good reason to believe that talk is a big load of … nonsense.  That's right; they're not going to cut a damn thing.  How can I be so sure?
There has been essentially no real political will, whatsoever, by either political party to make any significant cuts from the federal budget, ever.  Even the most "harsh" and "cruelest" proposals only call for a decrease in the rate-of-increase, of overall spending.  There never has been any, and there's no reason to predict there ever will be, any policy other than kicking the can down the road until after the next election, and the next one and the next one. The voters have spoken and they want to spend an extra $1,000,000,000,000 on healthcare.  Santa Claus is in fact coming to town!  That may be terrible for the country, but it may well be very good for doctors; that is the smart ones.  There may be more hoops to jump through, more requirements and regulations, as well as creative strategies needed to get a "piece of the pie," but demand for doctors' services will necessarily increase, and tremendously so.  Also, despite much posturing, tough talk and threats of showdowns year after year, the SGR-fix has always been passed and the budget debt ceiling has always been raised.  Medicare expenditures will necessarily continue to go up, and up, and up. More patients will be insured wanting our services. The elderly baby-boom population will be sick and growing older and need us desperately.
I was told a story by a retired physician about his long deceased cardiologist father who practiced before Medicare was instituted.  He tells of his father who was a very compassionate physician, but a staunch free-market conservative who like many physicians at the time vehemently opposed the proposed Medicare system.  His father would say that physicians provided charity care for free to the disabled and elderly all the time and that Medicare was just a Trojan-Horse for socialists who wanted to take over the American healthcare system.  He may or may not have been correct, but ultimately to his dismay, Medicare passed and became law.  All of a sudden and very unexpectedly, his salary … doubled.  He never complained about Medicare again.
The point of this anecdote is not to suggest that physicians' salaries will double as a result of Obamacare.  They will not.  However, it is to suggest that despite the 2000 pages of regulations and requirements in the cloud of Obamacare that hangs over our heads, there will be an unexpected silver lining, somewhere.  I think we can simultaneously work vigorously to reform our profession, yet shed the "culture of victimhood" that has grown like mold upon physician attitudes and search for positive opportunities.
Some physicians will "opt-in"
Such new opportunities will not be the same as in the dead era of Osler, Hippocrates and Marcus Welby M.D.  Also, I cannot say that chugging along with the same old strategy, expectations, and disappointments of a bygone Golden Age will be a winning plan, either.  It may involve simply being content as a cog in a large machine or "system."  It may involve thriving in the role of "corporate soldier," learning how to "play the game" while finding ways to save costs, increasing efficiency for your group or other groups and "promoting" your hospital.  Others may move into the government side of healthcare and find opportunities in healthcare policy planning and consulting.  Clearly, knowing "the medicine" isn't enough anymore and in fact, seems the least important of that which is expected of us.
Other physicians will "opt-out"
Greater numbers of physicians will find opportunity in opting-out of the system by making their practices cash only, concierge, or declining to participate in Medicare and a more dominant Medicaid system.  Another option may be for more Emergency Physicians and surgeons to exploit technicalities in Obamacare and States with liberal certificate of need laws and open their own centers that offer services for a flat fee outside of traditional government or private insurances.  As more insurance plans require deductibles in the thousands of dollars and refuse to pay for certain services entirely, such centers may gain more traction where they are feasible.
Others may "opt-out" more insidiously.  The new generation of physicians may very well evolve into protocol-following, brown-nosing, corporate mantra-spewing clock-punchers, indistinguishable from other "providers" all while refusing to make the tremendous sacrifices of doctors past, such as incredibly long hours, over-burdensome call schedules with great sacrifice to marriage, family, and personal well-being.  Maybe that's okay, and maybe that's what our new Overlords of Healthcare want and will reward.
More primary care physicians and other specialties likely will take the "9-5, no call" route and leave the after-hours hassles to the ED and hospitalists.  More medical students may pick careers in cosmetics over critical care.  More Emergency Physicians may leave high-stress clinical shift work in the Emergency Department for Administration, group management, Hospice and Palliative care fellowships, Urgent Care ownership or anything else seen as less stressful.  More surgeons and specialists may opt out of emergency call for a less stressful life and a focus on elective cases with higher reimbursement to liability ratios.  I see more Anesthesiologist moving to "lifestyle" positions at ASCs doing elective cases, or pain procedures with little or no call.  Many physicians will consider early retirement.
The silver lining
The pioneers of Medicine did not have to worry about our "new normal" of Obamacare and all of its 2000 pages of regulations and requirements.  They didn't have to worry about $300,000 of medical school debt, mega-million dollar frivolous lawsuits or being fired over patient satisfaction surveys based on complaints that may or may not even be valid.  But they also didn't have our modern-day luxuries, salaries, exploding technologies, or a nation of patients soon to be more widely insured and in demand of our services than ever.  There is much worth fighting to reform, yet even more worth fighting to preserve.  All things considered, we are tremendously better off.
Be sure, Obamacare will change modern medicine, and it will change it mightily.  Also be sure, that with us or without us, and whether we look forward to seize new opportunities or look back upon shattered expectations, the profession of Medicine will be alive and well, and thriving more than ever before.
"BirdStrike" is an emergency physician who blogs at WhiteCoat's Call Room at Emergency Physicians Monthly.
Image credit: Shutterstock.com