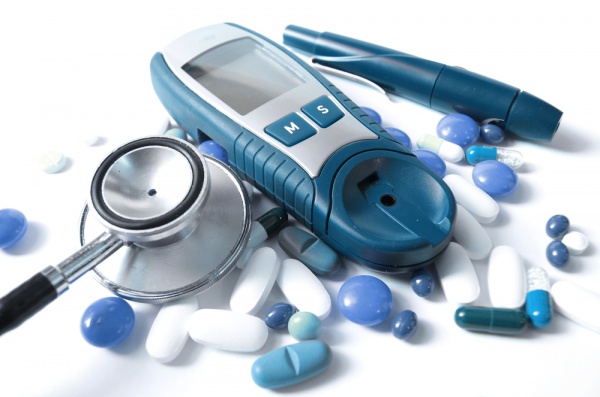 Test your medicine knowledge with the MKSAP challenge, in partnership with the American College of Physicians.
A 68-year-old woman comes to the office for a follow-up evaluation. She has had type 2 diabetes mellitus for the past 13 years and has experienced two early-morning hypoglycemic episodes in the past 3 months.
Although her self-monitoring of fasting blood glucose levels over the past 6 months has consistently shown results in the 110 to 140 mg/dL (6.1 to 7.8 mmol/L) range, her hemoglobin A1c value during this same period has exceeded 8.5%. Her current diabetes regimen consists of metformin, 850 mg three times daily, and insulin detemir, 38 units at night. She has no other medical problems.
Which of the following is the most appropriate next step in management?
A. Add exenatide to her regimen.
B. Check her serum fructosamine level.
C. Increase the insulin detemir dosage.
D. Measure 2-hour postprandial glucose levels.
MKSAP Answer and Critique
The correct answer is D. Measure 2-hour postprandial glucose levels. This item is available to MKSAP 15 subscribers as item 33 in the Endocrinology section. Part A of MKSAP 16 was released on July 31. More information is available online.
This patient requires measurement of her 2-hour postprandial blood glucose levels. A common clinical scenario in diabetes management is the patient whose hemoglobin A1c values are suboptimal despite fasting blood glucose monitoring results suggesting good glycemic control. Several possible explanations for this phenomenon exist, including a falsely altered hemoglobin A1c value in the setting of hemoglobinopathy or hemolytic anemia; however, there is no reason to suspect a blood disorder in this patient. The most common cause is elevated postprandial blood glucose levels. The possibility of postprandial hyperglycemia should be assessed by measuring blood glucose levels 2 hours after meals several times each week. If elevated blood glucose levels are noted postprandially, the addition of a mealtime rapid-acting insulin analogue, such as insulin aspart, insulin lispro, or insulin glulisine, is appropriate. These insulin preparations, which have peak action within 30 to 90 minutes and a duration of action of 2 to 4 hours, successfully modulate the postprandial rise in glucose.
Although adding exenatide to insulin may reduce postprandial hyperglycemia, it would not reveal the reason for the discrepancy between the fasting blood glucose levels and the hemoglobin A1c values. Exenatide is approved by the U.S. Food and Drug Administration for use in combination with metformin, with a sulfonylurea, or with a combination of metformin and a sulfonylurea but not with insulin.
When a hemoglobinopathy or a hemolytic anemia is responsible for incorrect hemoglobin A1c readings, another biochemical measure of long-term glucose levels, such as fructosamine or glycated albumin, can be used instead of hemoglobin A1c. Because these conditions are unlikely in this patient, measurement of her serum fructosamine level is inappropriate.
Basal insulin analogues, such as insulin glargine and insulin detemir, are effective agents to control fasting glucose levels and, in most circumstances, hemoglobin A1c values. However, they cannot reduce postprandial glucose excursions. Additionally, increasing the dosage of insulin detemir may increase the incidence of overnight hypoglycemia without addressing postprandial glucose spikes.
Key Point
When the hemoglobin A1c value is higher than that suggested by the fasting glucose readings, the postprandial glucose level should be checked.
Learn more about ACP's MKSAP 16.
This content is excerpted from MKSAP 15 with permission from the American College of Physicians (ACP). Use is restricted in the same manner as that defined in the MKSAP 15 Digital license agreement. This material should never be used as a substitute for clinical judgment and does not represent an official position of ACP. All content is licensed to KevinMD.com on an "AS IS" basis without any warranty of any nature. The publisher, ACP, shall not be liable for any damage or loss of any kind arising out of or resulting from use of content, regardless of whether such liability is based in tort, contract or otherwise.
Image credit: Shutterstock.com