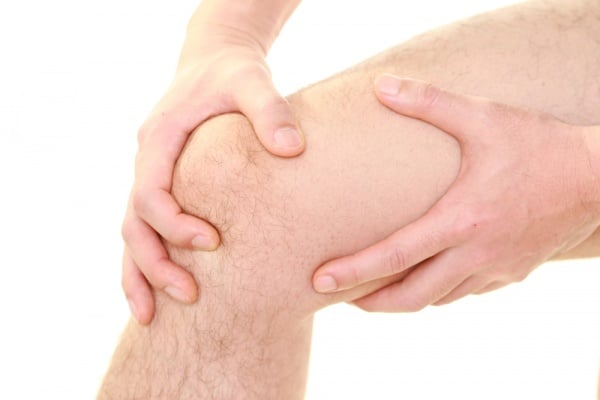 Test your medicine knowledge with the MKSAP challenge, in partnership with the American College of Physicians.
A 42-year-old woman is evaluated for recurring pain and swelling of the left knee and right ankle that began 5 months ago. At that time, she also had an episode of conjunctivitis as well as dysuria, both of which resolved spontaneously. The joint pain and swelling persisted, and aspiration of the left knee was performed, which revealed leukocytosis without evidence of crystals or bacteria. She started naproxen, which provided some relief; 1 month later, she switched to indomethacin, but there was no improvement. She then began corticosteroid joint injections, which initially provided relief, but now the pain and swelling have recurred. Six months ago she also had an episode of nonbloody diarrhea of 5 days' duration that resolved spontaneously.
On physical examination, vital signs are normal. Cutaneous examination is normal. There is no evidence of conjunctivitis or iritis. Musculoskeletal examination reveals swelling, tenderness, and warmth of the left knee and right ankle.
Rheumatoid factor, antinuclear antibody, and anti–cyclic citrullinated peptide antibody testing is negative. Lyme disease serology results are negative. Chlamydia trachomatis and Neisseria gonorrhoeae test results are negative.
Radiographs of the left knee and right ankle are normal.
Which of the following is the most appropriate treatment for this patient?
A: Colchicine
B: Glucosamine
C: Nitrofurantoin
D: Sulfasalazine
MKSAP Answer and Critique
The correct answer is D: Sulfasalazine. This item is available to MKSAP 16 subscribers as item 2 in the Rheumatology section.
MKSAP 16 released Part A on July 31. More information is available online.
Treatment with sulfasalazine is appropriate for this patient with reactive arthritis. Reactive arthritis is characterized by the presence of inflammatory arthritis that manifests within 2 months of an episode of bacterial gastroenteritis or nongonococcal urethritis or cervicitis in a genetically predisposed patient. Approximately one third of patients manifest the classic triad of arthritis, urethritis, and conjunctivitis. Reactive arthritis is usually self-limited and remits within 6 months without causing erosive damage; approximately 25% of patients develop a chronic persistent arthritis that can be refractory to treatment with NSAIDs. This patient has reactive arthritis related to an episode of gastroenteritis. NSAIDs and corticosteroids have been ineffective in improving her condition. Data on the use of disease-modifying antirheumatic drugs in reactive arthritis are limited; however, sulfasalazine has been shown to have some efficacy in patients with chronic reactive arthritis and may be beneficial for this patient. The benefits of sulfasalazine in peripheral musculoskeletal manifestations of other forms of spondyloarthritis, including psoriatic arthritis, inflammatory bowel disease–associated arthritis, and ankylosing spondylitis, also support the use of sulfasalazine in reactive arthritis.
Colchicine is used to control inflammation in patients with crystal-associated arthritis as well as some autoinflammatory syndromes but is not used for patients with reactive arthritis.
Glucosamine may have a limited role in pain relief in some patients with osteoarthritis but has not been studied or suggested for use in patients with reactive arthritis.
Despite the association between reactive arthritis and bacterial infection, antibiotics are indicated primarily for acute infection and generally are of dubious benefit for reactive joint disease. In some studies, a 3-month trial of minocycline or a similar agent was shown to improve the clinical course of reactive arthritis, particularly when this condition was associated with Chlamydia trachomatis infection. There is no role for nitrofurantoin in the treatment of this patient.
Key Point
Treatment with sulfasalazine is appropriate for a patient with chronic reactive arthritis who does not respond to NSAIDs or corticosteroids.
Learn more about ACP's MKSAP 16.
This content is excerpted from MKSAP 15 with permission from the American College of Physicians (ACP). Use is restricted in the same manner as that defined in the MKSAP 15 Digital license agreement. This material should never be used as a substitute for clinical judgment and does not represent an official position of ACP. All content is licensed to KevinMD.com on an "AS IS" basis without any warranty of any nature. The publisher, ACP, shall not be liable for any damage or loss of any kind arising out of or resulting from use of content, regardless of whether such liability is based in tort, contract or otherwise.
Image credit: Shutterstock.com