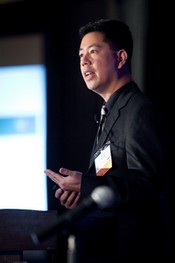 I am honored to be speaking at two conferences this September 2012.
The first, on Monday, September 10th, is a lunch session at the American Academy of Otolaryngology-Head and Neck Surgery 2012 Annual Meeting.
The second, on Friday, September 14th, is a keynote at eDTC Revolution.
Both will be in Washington, DC.
I will be discussing my social media journey since 2004, and share how I use social media to connect with patients, my colleagues, and most importantly, how social media makes my voice heard.
Please check my social media speaking events page, which I keep updated. I'm currently accepting speaking proposals for the first and second quarter of 2013.
If you're interested in having me give a keynote about health care and social media, please don't hesitate to contact me.