I just returned home from mHealth Summit Meeting in DC which, in my opinion, is still one of the biggest and best mobile health conferences of the year. On the first day of the conference, I discussed the EndoGoddess App as a use case example of mobile health from the practicioner point of view.
Sadly, the numbers of physicians in the mobile health entrepreneural space at mHealth Summit were still few and essentially unchanged from last year by my counts.
Although I realize that many actively practicing physicians cannot attend all technology meetings, I would consider mHealth Summit to be that one meeting a year that an ambitious physician mobile health entrepreneur would take the time to attend. Therefore, I am assuming that this correlates with a low number of physician entrepreneurs in the marketplace. Although large numbers of physicians are certainly using smartphones, there is still a notable lag in the incorporation of mobile health within the traditional medical practice.
For example, case examples of physicians recommending health apps to their patients and then measuring changes in medication adherence or health outcomes are not common. Additionally, mobile phone sensors as a dominant outpatient diagnostic tool is also uncommon although cardiologist Dr. Eric Topol mentioned that his mobile phone vscan ultrasonic sensor has now replaced his stethoscope in his outpatient clinic. Exchanges on twitter such as the one listed below may mirror the fact that perhaps physicians aren't taking mobile health seriously: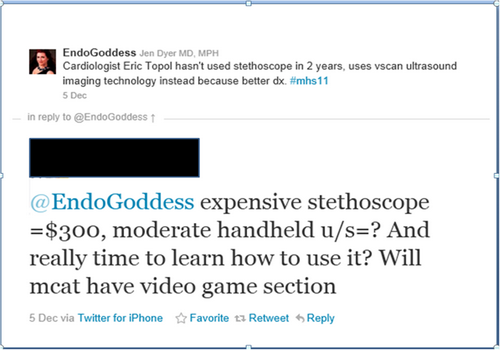 I hope more of my fellow physicians take the opportunity to use their voices (as new entrepreneurs) to shape the future of medicine into the one that they would like to see. Physician voices are important and a critical part of making mobile health and other technologies successful in improving patients' lives.
Jennifer Shine Dyer, a pediatric endrocrinologist, is Founder, EndoGoddess LLC and Chief Medical Advisor, Eproximiti DuetHealth.com. She blogs at EndoGoddess Musings.
Submit a guest post and be heard on social media's leading physician voice.