Golfer Phil Mickelson has had a rough year and a half. First, his wife and mother are diagnosed with breast cancer, and then he has a health scare of his own. Last year, after the US Open, Mickelson began to experience some troublesome symptoms.
In an interview with Extra's AJ Calloway, Mickelson opened up about what was going on: "After the U.S. Open last year, I wasn't able to move. I couldn't get out of bed. I had swelling, stiffness in my joints and couldn't move, just excruciating pain. I couldn't swing a golf club, and I was a little worried."
After seeing a rheumatologist (a physician who specializes in the diagnosis and treatment of arthritis and other diseases of the joints, muscles and bones) he was diagnosed with psoriatic arthritis. With early diagnosis and treatment, Mickelson is able to play golf again. When asked why he was coming forth with this information now, he said that he "didn't think the information [about the disease] was properly out there" and wanted a way to increase the public's awareness about it (we're all about that!) Partnering with two pharmaceutical companies, Amgen and Pfizer, and the Joint Smart Coalition, Mickelson has set up a website called On Course with Phil as an education resource for those with arthritis and/or psoriasis.
What is psoriatic arthritis?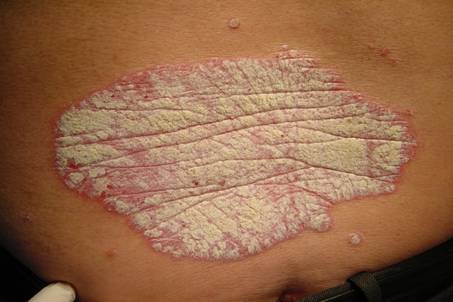 Psoriatic arthritis is an arthritis that is often associated with psoriasis of the skin. It is estimated that 600,000 Americans may have psoriatic arthritis. Psoriasis is a common, chronic skin condition that causes thicken, red skin with flaky, silver-white patches called scales on the body. About 1 in 20 people with psoriasis will develop arthritis with the skin condition. In most cases, psoriasis comes before the arthritis, although this is not always the case. The cause of psoriatic arthritis is not known, but genes may play a role. In general, people who have psoriasis have a higher rate of arthritis than the general population.
What are the signs and symptoms of psoriatic arthritis? (From the  Joint Smart Coalition)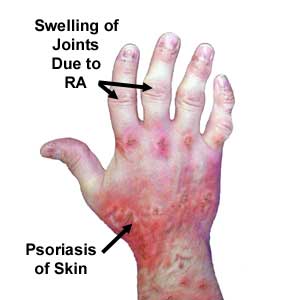 Pain, swelling, or stiffness in one or more joints
Joints that are red or warm to the touch
Frequent joint tenderness or stiffness
Sausage-like swelling in one or more of the fingers or toes
Pain in and around the feet and ankles, especially at the back of the heel or the sole of the foot
Changes to the nails, such as pitting or separation from the nail bed
Pain in the lower back, above the tailbone
Treatment
Your doctor may prescribe nonsteroidal anti-inflammatory drugs (NSAIDS) or salicylates to reduce pain and inflammation of the joints.
More severe arthritis requires treatment with more powerful drugs called disease-modifying antirheumatic drugs (DMARDs), such as:
Leflunomide
Methotrexate
Sulfasalazine
New medications that block an inflammatory protein called tumor necrosis factor (TNF) are becoming the treatment of choice. These include:
Adalimumab (Humira)
Etanercept (Enbrel)
Infliximab (Remicade)
Occasionally, particularly painful joints may be injected with steroid medications, and in rare cases, patients need surgery to repair or replace damaged joints.
Your doctor may suggest a healthy mix of rest and exercise. Physical therapy may help increase the movement of specific joints.

Outlook (Prognosis)
The course of the disease is often mild and affects only a few joints. A few people will have severe psoriatic arthritis in their hands, feet, and spine that causes deformities. In those with severe arthritis, treatment can still be successful in relieving the pain.
Michele Berman is a pediatrician who blogs at Celebrity Diagnosis.

Submit a guest post and be heard on social media's leading physician voice.