Medicare needs to be reformed, but there's no easy solution to the problem.  As the average life expectancy increases, more-and-more politicians have proposed an increase in the Medicare eligibility age.  This increase in life expectancy, however, is an issue that only affects the wealthiest half of America — the people that need Medicare the least — because the life expectancy has only increased significantly in the richest half of our population.
Just look (below) at the life expectancy as it relates to income.  The rich are living significantly longer than the poor.  To increase the Medicare eligibility age because of the continually increasing average life expectancy is, in essence, penalizing an entire population for the gains seen by only a portion.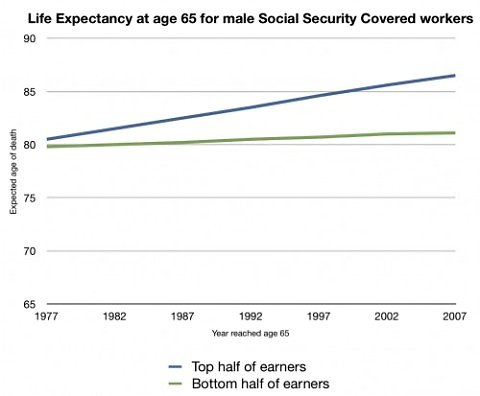 Increasing the eligibility age will only exacerbate the financial strain that Medicare is faced with, by excluding the poorest, sickest Americans from much needed healthcare at a time when disease processes like diabetes, hypertension, and high cholesterol can be attenuated, if not corrected.  Delaying government intervention, for the people that are least able to afford healthcare, only means Medicare will be left to pick up an even larger tab when these sick patients are finally adopted into the system.
Also, excluding people from the system simply shifts government spending to the private sector.  Yes, we may be able to pay less in taxes if we are able to save money through this type of Medicare reform, but the amount saved is offset by the expensive health insurance premiums payed by our seniors.  In fact, private spending may increase by as much as $2 for every $1 of government savings.  Simply put, the financial relief, if any, that the government gains from a reform of this type, is transformed into a disproportionate financial strain that will be absorbed entirely by our nation's elderly.  Is this really what we want?
Instead of increasing the eligibility age, we should address this problem by first asking questions like, "why is there a difference in life expectancy at all?" and "what does this say about our healthcare system on a national level?" and, furthermore, "what can we do to correct this problem?"  The answer will likely require smarter legislative decisions to address national healthcare reform, public health, and health education as well as a concerted effort from physicians and other healthcare providers.  What is becoming increasingly clear, however, is that an increase in the Medicare eligibility age is not part of this answer.
Medicare reform is only one part of the solution to our nation's budget crisis but — because any change in Medicare has the potential to affect the health and well-being of millions of our nation's elderly — it should also be recognized as one of the most important pieces of the puzzle.  For this reason, government austerity needs to be reexamined with Medicare reform as a top priority.  After all, the health of our seniors is at stake.
Nathanael Heckmann is a medical student.
Submit a guest post and be heard on social media's leading physician voice.