I interviewed about 150 medical leaders just a few years ago for my book The Future of Medicine – Megatrends in Healthcare. Not one mentioned wireless devices as a coming megatrend. How fast the world changes! Nowadays everyone has a cell phone and we rarely stop to think that just two decades ago almost no one had them. We have a laptop or tablet computer that can access information from the web at very high rates of speed; again it is hard to remember when this wasn't so. And those with smart phones have numerous "apps" – to check traffic conditions, find the nearest Starbucks, or play games. But these and other devices that use wireless technology will lead to major changes in the delivery of health care in the coming years. This is another of those coming medical megatrends.
I have written before about the device at home that wirelessly sends the heart failure patient's weight into the doctor's office each morning. If his weight starts to go up, it will be flagged and he will be called by the nurse with a change in diuretic prescription before he even notices more shortness of breath. He will feel better, he will not have needed to visit the doctor's office, make a sudden trip to the ER or be admitted urgently to the hospital. Better care at lower expense. The diabetic patient can have a similar device that sends her blood sugar measurements in. If the pattern changes, it will be noted and she will get a call from the doctor's office to make adjustments before difficulties set in. Once again it is better care at lower expense. And coming soon will be a monitor the size of a Band-Aid that measures blood glucose continuously. This is much better than sporadic finger sticks because it will not miss drops (hypoglycemia) or spikes (hyperglycemia) that intermittent measurements don't pick up. And the "band aid" sends the information wirelessly to a device (perhaps her smart phone) that collects and monitors it.
The "band aid" concept can be expanded. There are devices coming very soon that will measure your pulse, respirations and temperature continuously and send them to your smart phone or similar device. That would not be important for most of us most of the time but there are times in life and illness when this would be very relevant. The same or similar "band aid" could monitor your electrocardiogram in real time. It could be sent to your doctor's office to monitor your cardiac arrhythmia. For example, some individuals get what is known as paroxysmal atrial fibrillation, meaning it comes and goes for no apparent reason. But your doctor wants to know how often, what times of day and whether a medication was effective in stopping it. This would be much more effective than you checking your pulse at your wrist or stopping by the office every so often. For other patients, this device could pick up the early signs of a potentially dangerous heart irregularity and send an immediate emergent warning to you with a record for your physician.
Imagine the person who has intermittent blackouts (syncopal attacks) because his heart rate suddenly drops to a very slow rate for a short while. There is a device available now that tapes to the skin and records the electrocardiogram for up to 14 days. The old Holter machine was large, bulky and generally was used for just a day or two. But if there was no syncopal attack during that day or two, you were out of luck in proving the cause. The new device will mean much more likelihood of detecting the arrhythmia. What was it; when did it occur; how long did it last?
Other devices will pick up a combination of pulse, oxygenation of the skin, fluid balance and other parameters valuable for judging the status of the patient with heart failure. Congestive heart failure (CHF) is becoming a true epidemic in the United States as more people survive heart attacks but are left with damaged heart muscle. America spends about $40 billion each year on the care of heart failure, the vast majority of that during hospitalizations. And once a CHF patient is hospitalized, the chance of being re-hospitalized within a month is about 30% – a very disturbing number that suggests inadequate post hospital care in most cases. Like the wireless weight monitor it is possible (studies are in progress to prove or disprove the hypothesis) that having this type of information beamed to the physician's office will mean earlier interventions, better quality of care, better quality of life and much reduced costs of care.
There are a number of devices available to judge your sleep patterns. They use a band placed around the head (Zeo) to pickup brain waves or use a band around the wrist (Lark) to pick up sleep activity. The Zeo band submits its data wirelessly to a base station where it can be monitored and interpreted immediately after you wake up or in the case of the Lark it can awaken you gently with a vibration at the wrist. Given the very high frequency of sleep disorders and just modest difficulties with sleep in the population, these simple devices may prove very useful.
There are also very small pedometer-like devices that you can attach to your pants pocket. It will track your activity throughout the day and by wirelessly downloading to the base station directly (or via your smart phone) can give you a daily or weekly summary. You can then add in more information such as calorie counts for each meal and other parameters that can then create a more robust report. (For a video of some of these technologies watch cardiologist Eric Topol, MD.)
The message today is that there are now many wireless medical devices on the market and many more coming at a rapid rate that can have profound implications for medical care and health/wellness promotion. Almost undreamed of until very recently, these are new techniques and technologies that are going to change the way medicine is practiced. Some of these changes will be very disruptive and some quite transformative. A medical megatrend in the making in front of our eyes.
I suspect that readers will have many ideas of their own as to other ways wireless technologies can have an impact in medicine.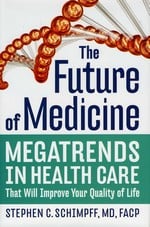 Stephen C. Schimpff is an internist, professor of medicine and public policy, and former CEO of the University of Maryland Medical Center.  He is the author of The Future of Medicine — Megatrends in Healthcare and blogs atMedical Megatrends and the Future of Medicine.
Submit a guest post and be heard on social media's leading physician voice.