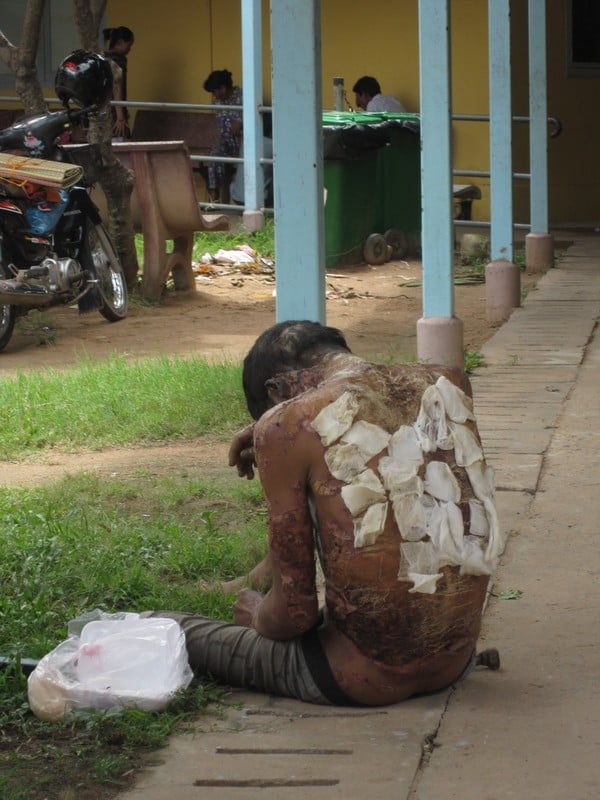 This is Lokin. Every morning as I enter the hospital, Lokin sits in the same spot. Last week he was covered in gasoline and set aflame by a man in his village — a dispute over gambling debts.
For the past five days I've walked silently past this man, torn apart by not knowing what to do. I could tell him all about the organisms that threaten him — the gram staining, the antibiotic regimens. I could tell him all about the silver sulfadiazine he'd receive were we in the U.S. and the hospital could afford it, and the biochemical basis of its actions. I could draw diagrams about angiogenesis and wound healing, and I could lecture on the Rule of Palms.
But I don't know what to do. I know of C-fibers, lymphatic drainage, and Psuedomonas, but I know nothing of care, treatment, and healing. Lokin — if he were able to understand — doesn't care about Stapholococcus, he cares about the pain. He wants to know if he'll ever get better. If he'll ever be free of the pain. If he'll survive.
Dr. Lim Sokong is applying for an internship in America. He told me that he doesn't want to be like "the frog in the well," looking up and seeing only a small bit of sky. He worries that if he never travels to America, he'll only ever know Cambodia — the small bit of sky he can see from the bottom of his well. As he told me this, it hit a nerve. Riding ambulances, reading books, and sitting in lecture has long had me convinced that the sky was only what I could see directly above. Coming to this country, as well as the few times I'm able to sneak into ER's in the U.S., has shown me just how large the sky really is — how much medicine I've never even known existed. I look around, and I'm terrified by how much I have yet to learn.
This morning I stopped at the western-owned pharmacy and bought a tube of Silvadene. I handed it off to the doctors, and I hope they bring this man some relief. I went and sat next to Lokin. It took a while for him to notice my presence, so absorbed by his pain. He looked at me and managed to whisper "chu" (pain). I could only reply with "soum doh." We sat, my hand on one of his few patches of healthy skin. I didn't know what else to do.
Rick Pescatore is a medical student who blogs at Little White Coats.
Submit a guest post and be heard on social media's leading physician voice.