I was recently asked by Adam Sharp, MD the Chief Medical Officer of Sermo, the physician-only online community at Sermo.com, to write a guest post of my choosing and facilitate a discussion about it for a few days. My choice? Social media, (based on the recent article colleagues and I co-published in The Permanente Journal). This post is about my experience and what I learned.
I know that only a minority of physicians are visible on social networks like Twitter.com, after all, a minority of them are even exchanging e-mail with patients, so there could be no doubt that this topic would be a controversial one with a community of 110,000 physicians, most of whom do not practice in integrated care systems.
And … I was proven correct. The Sermo platform allowed me to put together a nifty poll, which was very helpful. The results are posted in the graphic below, note that my hypothesis caused me to ask a question about the future rather than the present.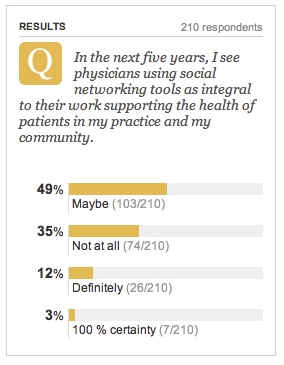 Being Sermoan isn't easy
The life of a Sermoan (this community's self-assigned title of its inhabitants) is not easy. I was one for 4 days, and, for me, it was challenging. The Sermo community is unique in that the participants are mostly anonymous – they use semi-descriptive handles. I think I was probably the only person that was not anonymous (my handle was "tedeytan").
Adam and team have given me all of the text of the comments received, and I am going to post a few of them below, to show the spectrum of conversation. I'm not showing the most challenging of it, just a spectrum….It will help those who wonder, "why isn't my doctor using social networks?"
See for yourself:
NO; NO; NO; NO> These are the answers to your 4 questions. ""To ensure that patients and their families have an active role in their own health care"">> they need to make an appointment; and keep it!!"
and
I agree with Holly Potter, VP of Public Relations at Kaiser Foundation Health Plan that social media tools have enormous potential to help an integrated healthcare system fulfill its purpose, especially in a fully accountable, coordinated care delivery system. Based on my years in self-employed private practice, in the currently fragmented, transaction-oriented care system, I donít think these interactive tools are as well suited to the purposes of self-employed physicians or those working in independent physician group practices.
and
Use FB for what? Telling pt they should take their meds and eat right and …… aim properly so that they dont piss on the rim???

1) I am not their nanny.

2) I am already sick and tired of patients not taking responsibility

3) Pt dont care

==============

When Kaiser makes its docs use FB to deliver care, it saves money. When we do that, we lose money.

=================

Even if I would get paid for it, I would not do it.
and
Ted..The problem is we are stretched to the limit with junk work ( NOT patient or medical problems of patient but the impact of third party systems). The typical answer of CMS or consultants  is hire more midlevels to do all the junk work. For example our hospital which is barely  sailing with its head above water has a "Thomson 100 team, a Press Ganey team.. Valuable tax payer dollars in a hospital wasted on bum work. I really studied the concept of patient centred practice. I hold a contrarian view and after consult code elimination by medicare,  actually trimmed my office size by 33%, changed policies to prevent loss of useful time. I am willing to push encrypted  records to patient ( takes  a mouse click)  but cannot afford to have endless twittter peeps with patient with every question they can think of as they converse with sister Susie on facebook. The distraction is bad for patient care or office functioning.

I do not even carry a cell phone with me after hours. I DO NOT even take any personal phone calls in working hours.  Even if I were paid, I want to have the choice of defining  my working hours. That is why like so many on SERMO   i am still self employed and not vertically aligned..
I learned a lot; however I wish I would have realized more of potential of the immense experience of the group. It took longer to understand these experiences because of the interstitial growling bordering on screaming. My other challenge is that I can't discern if the commentary is representative of physicians at large or if it is maybe hyper-representative, due to its anonymous, uncensored nature.
Not easy for the other Sermoans, either
I did learn that the life of a Sermoan is not easy either, not because of Sermo, but because of being a physician today. Looking beyond the comments in my post and checking out the other forums, there was more than the occasional "I'm just stopping for a second to take a breath" tone in posts.
There were also stories of the challenged, pressurized world of the physician today, wrapped around quality requirements, patient satisfaction scores, business arrangements –  a whole host of things that society insist that they get "right," in addition to the right diagnosis and treatment. For a physician who is on their own or in a small group (where 90% of Americans get their health care), it may be difficult just to understand the "why?" of these things, much less be able to master them and lead the health care system with them.
I empathize and I appreciate the frankness with which these experiences are shared.
What's the potential?
I come from the organized medical group world, where ability to control destiny, and to learn how to lead and learn, is a requirement. I think it has to be this way for medical groups and for all of society. Why? Because physicians can and should lead the health system, with great care and compassion.
With this in mind, I glass-half-fully (or really 3/4 fully) believe that there is huge potential in a community like Sermo, because I think it could provide the ability to lead, supported by self-determination and a common purpose among the most educated and revered by the population. I would think about changing the anonymity aspect. I would think about engaging this group differently, providing more information and resources about self-organization and collaboration. This is what happens in the physical work world that I am a part of – could Sermo provide or connect people to this this in the virtual world?
Right now, I agree with my fellow discussants that there isn't much incentive for the average physician to participate; that doesn't mean we shouldn't explore whether it is effective for us and what we need to use it well (before it uses us in an unhealthy way). I'll close with this final comment that closed the thread. I appreciate the energy, hard work, and especially the time of my colleagues on Sermo in having the conversation.
Over time, the rest of the medical community will understand how social media ought to fit into patient communication. Kaiser, Mayo, and others are leaders in the field right now and others will eventually follow.
Ted Eytan is a family physician who blogs at his self-titled site, Ted Eytan, MD.
Submit a guest post and be heard on social media's leading physician voice.