So I'm watching the 6 pm local news last night and see a piece on KARE-11, my local NBC affiliate, about "a new buzzword called 'cyberchonrdria'" — used to describe people who "Google their symptoms online and then worry over the multitude of results and possible diagnosis …"
But it's clear from what they posted online that this was not a piece of local enterprise journalism by your local Minneapolis TV station.
It apparently came from a Charlotte, North Carolina station. Google shows that several NBC stations across the country apparently picked up the story from an NBC feed and ran it as if it were their own.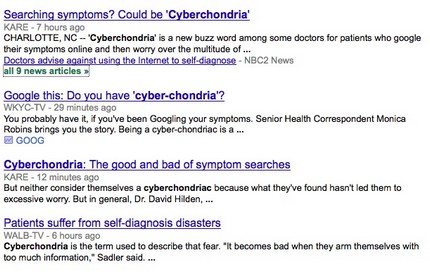 There really nothing new about the "cyberchondria" buzzword.
I found a Harris Poll from May, 2002 entitled "Cyberchondriacs Update." Wikipedia has references dating back to 2001 — 10 years ago.
News?
KARE in Minneapolis dropped in a local doctor's interview and re-packaged what another station had done and made it look like their own enterprise story. We know this happens all the time, but most in the general viewing audience don't.
The vast wasteland of local TV health news.
Gary Schwitzer has specialized in health care journalism in his more than 30-year career in radio, television, interactive multimedia and the Internet.  He is publisher of HealthNewsReview.org.
Submit a guest post and be heard on social media's leading physician voice.