A reader recently wrote to me: "Brandon, in our area, we've seen a few retail clinics pop up. What can we do as a practice to let patients know that visiting retail clinics is not in their best interest?"
We had along discussion. So I put together a summary of our conversation. Below is a rundown, more of less, of what I told the doc.
Beat them at their game. One of the benefits that retail clinics promote, is their flexible hours and immediate access; so it makes sense for the practice to look for ways to offer extended hours and rearrange the schedule to give people immediate access. "This is low hanging fruit, so you should take advantage of it," I told the doc.
Beat them at your game. The next thing one can do, I said to the physician, is look for ways to differentiate yourself from the retail clinics by finding things you do well, that they don't. How so? he asked.
Peruse. I mentioned to take a moment to visit a retail clinic's website and study their services. While perusing, I told the doc to think about the retail clinic's limitations, where they fall short and some of the restrictions they have. As I was saying that, all I could see was a blank stare. "Let me guess," I said, "you don't have time to peruse do you?"  "Well, you're in luck.  I do have the time and this is what I found on the retail clinic's site." I listed a few things and the list looked something like this:
First doses, which are given at 2, 4 and 6 months of age, are not available.
Patients with a history of allergy or adverse reactions to the vaccine may be referred to another care setting.
Allergy patients must be 2 years of age or older.
Only female patients ages 12 to 65 will be treated for urinary tract infections.
We cannot refill prescriptions for conditions that are outside our scope of services. Patients should call their primary care provider to refill any needed prescription.
If specifically required by patient's physical exam form, a urinalysis will be performed, which will result in an additional $15 lab charge.
Patients with moderate to severe asthma symptoms such as wheezing or shortness of breath will be referred to another care setting.
Differentiate. Next, I mentioned to the doc to think of services that the practice can offer that directly addresses these shortcomings.  I also made a point to say that just because he treated asthma all the time and he has  attended every single asthma lecture known to man, and is very comfortable treating it, don't assume it is not a huge service. Clearly it is something that only an expert can handle; otherwise, retail clinics wouldn't have a problem handling asthma patients.
After I went through all that, I got another blank stare. "OK, ok, I get it. You don't have the time to differentiate." So I shared with him what I would do if I were in his shoes. And this is what it looked like:
Our practice offers physical examinations provided by a Medical Doctor, not a mid-level provider.
We offer a personal relationship with the family and the child.
We take a proactive role in the health care of our patients (ie. making sure imm are up-to-date, yearly school physicals, vision screens, hearing screen, developmental screens, etc).
We have a detail knowledge of our patient's history (ie PFSH, medication list, previous Dx's. etc.) which enable us to provide better, comprehensive care.
Our office has an after hour emergency line for when things get difficult in the middle of the night.
We have certified lactation consultants available to new moms.
We also can provide a system of written management plans to manage asthma, ADHD, acne, or weight management issues.
Not to mention programs to empower parents to better manage illness at home and thus save money on emergency room visits and even copays.
So what now? Now that we've done this great exercise, and gathered all this great info and perspective, I told the doc he needed to start telling stories that address the value a pediatrician can offer over a retail clinic by playing up his strengths as a pediatrician, as well as highlighting the retail clinic's shortcomings.
How so? Easiest way to start is on the practice's Facebook page. There, one can write up relevant information pertaining to the benefits of breastfeeding for example and then talk about the lactation services the practice offers. Another place to share these differentiations is on the practice's blog.
Another example is using a newsletter that has interesting and informative articles that highlights the practice's comprehensive services. A newsletter is another great way to keep patient's informed of the importance managing an illness like asthma closely and how managing chronic conditions save money in the long run. Or perhaps tell patients of the benefits of a healthy lifestyle and how pediatricians can tailor a plan to meet the needs of the patient that will help them lose weight.
Go head to head with advertising. I mentioned that outside of healthcare, companies go head to head in their advertising to highlight their strengths when compared to the competition or highlight the competitions weaknesses. For example, JetBlue recently started a new campaign called "You Above All" that takes direct aim at other airlines annoyances like baggage fees and terrible customer service.
JetBlue has an advertising agency; at the office, It's just me. "Yeah, but you got me now" I said. So I took put together a few concepts to get the ball rolling. Below are a few mock ups.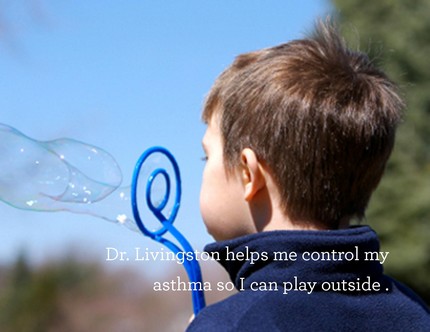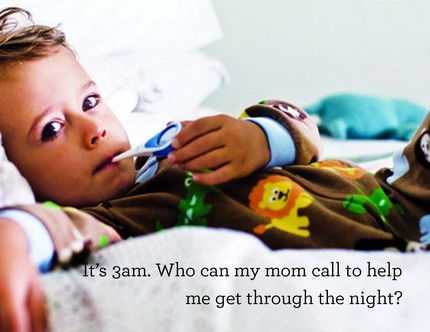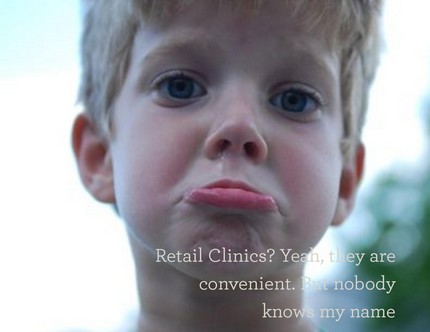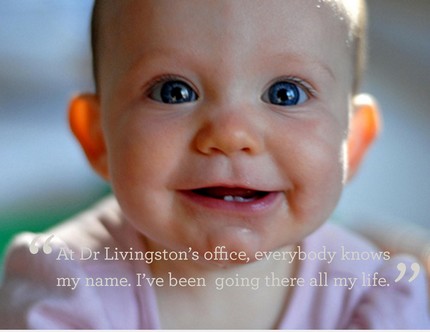 Note: I put these together to illustrate how one can use advertising and effective copy to drive certain points home. Naturally, a real advertising piece will have a doc's telephone number address and any other pertinent information like a call to action.
What about the medical home concept. When do I talk about that? Unfortunately, medical home concept makes sense to doctors, but it doesn't always resonate with parents. And the reason is, parents are not as interested in quality and continuity of care as much as they are with convenience.
However, that doesn't mean one can't push the advantages of a medical home. But I think it should be reinforced once they are in the office. So when little Timmy's mom needs that med so Timmy can play tomorrow in that crucial game, and you were able to give mom a same day Saturday appointment, that is when you should suggest to put Timmy on a plan to control his asthma, ADHD or whatever and highlight the benefits of a medical home.
Final thoughts. I told the doc that I believe that the retail clinics down the road is  actually good for his business. Here's why.  The retail clinic down the street gives the doc's practice an opportunity to differentiate himself  by illustrating how his practice provides a different kind of value. Had the retail clinic not opened up, he'd continue to be a commodity. But the retail clinic's presence allows pediatricians to demonstrate how a peds office delivers a "greater" service in a different kind of way.
Brandon Betancourt manages a pediatric practice and blogs at Pediatric Inc.
Submit a guest post and be heard on social media's leading physician voice.