Like most everyone else, I took a break from my evening chores the past few nights, and watched Jeopardy!
IBM's super-computer, Watson, was taking on Jeopardy! phenoms Ken Jennings and Brad Rutter.  [SPOILER] The computer won handily.
After watching, I began to study for my upcoming board re-certification exam.
But, then, I wondered.  Why?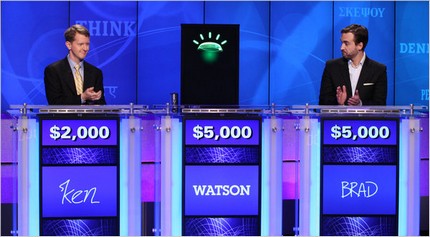 In the New York Times, applications for Watson are taking center stage.  In the field of medical diagnosis, for instance,
[IBM] plans to announce that it will collaborate with Columbia University and the University of Maryland to create a physician's assistant service that will allow doctors to query a cybernetic assistant. The company also plans to work with Nuance Communications Inc. to add voice recognition to the physician's assistant, possibly making the service available in as little as 18 months.

"I have been in medical education for 40 years and we're still a very memory-based curriculum," said Dr. Herbert Chase, a professor of clinical medicine at Columbia University who is working with I.B.M. on the physician's assistant. "The power of Watson- like tools will cause us to reconsider what it is we want students to do."
Soon, physicians will have easy access to a Watson-like computer with vast medical knowledge, where they can simply ask  a natural language question, and the computer will come back with a medically accurate answer.
Why, then, are we still relying on  a "memory-based curriculum," where doctors still need to recall endless amount of facts on closed board exams?
If I don't know the answer when I'm with a patient in the exam room, I look it up, or ask someone who does.  In this era of patient safety and emphasis on reducing medical errors, it doesn't make much sense to rely on rote memory to practice medicine.
Watson antiquates closed board exams.  Instead of sitting in a testing room, doctors should be evaluated on how well they can find the necessary information — not how well they can recall something they memorized.  Board certification tests should be open-book, or, at least, provide the resources ready for physicians if they can't recall an obscure medical fact.  Just like real life.
After all, Watson will ensure that decision aids and vast medical knowledge will be readily available at doctors' fingertips.  Board certification entities need to recognize this reality and update the way they test physicians.
Kevin Pho is an internal medicine physician and on the Board of Contributors at USA Today.  He is founder and editor of KevinMD.com, also on Facebook, Twitter, Google+, and LinkedIn.