Administration comprises one of the biggest factors for health care waste.
But does health reform do enough to streamline it? It's doubtful.
Consider the following chart presented by David Cutler, a President Obama advisor: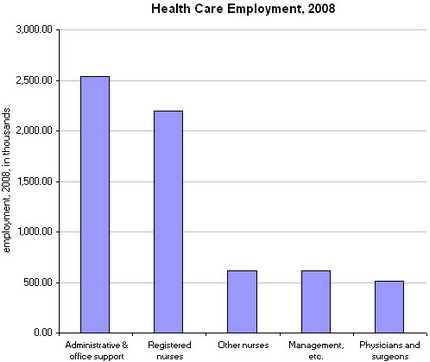 In other words, for every one doctor there are 5 more are employed to do administrative tasks.
And, frankly, it's ridiculous. As Dr. Cutler says, "There is a lot of money spent doing things that in no other industry do we tolerate."
Health reformers are hopeful that the money spent for electronic health records and claims processing will cut down on the bureaucracy. But it's doubtful. Because universal standards for health IT are fragmented and difficult to implement, it's unlikely that digital systems are a viable answer. If anything, I can see electronic records creating more positions, such as IT support, that will further bloat the administrative side of health care.
This is compounded by the impending transition to ICD-10 — with a 10-fold increase in coding complexity.
I can pretty much guarantee that those training in medical coding or health IT will have secure careers for the foreseeable future. Something to consider as we grapple with double digit unemployment rates.