Ask your doctor. I think most of us would agree that is good advice, at least up to the point that we find ourselves sitting half naked on an exam table in our doctor's office. Then the doctor walks in and for some reason many of us just "clam up."
Patient question-asking during the primary care office visit was and continues to be an "index" of patient health information seeking behavior. Since the first of such studies going back to the late 1970s, researchers have found that, except for patients who are highly involved in their own health care, most people ask their doctor few if any important health questions.
Here's an example of what I am talking about.
At face value, one would think that being "put on a new medication" would prompt patients to ask their doctor a few questions. Why do I need this medication? What are the side effects? How should I take it? What about other medications I am taking? When can I stop taking it?
If you think that way, you would be wrong.
By way of evidence, I cite a 2008 study in which 181 patients were prescribed a new medication by their primary care physician or a cardiologist during an office visit. In total, patients initiated 199 questions or comments (1.09 per patient) based upon a coding of audio tapes of each patient visit. Table 1 shows a breakdown of the frequency of patient questions by type and duration of patient talk time (in seconds) associated with each question topic.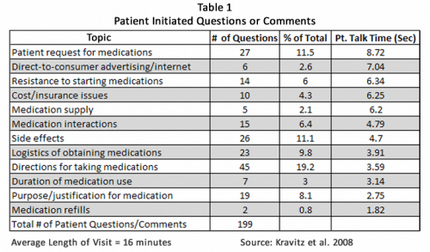 Of those patients that did ask questions, the focus was on the important questions — how to take the medication, side effects, and the purpose of taking the medication. The brief amount of "patient time" spent on these important topics was compensated for during physician talk time, e.g., physicians spoke for 10 seconds on the purpose of the Rx and 8.25 seconds on how to take the medication. Keep in mind that physician talk time for all physician comments related to "starting a new medication" was less than a minute for the entire visit.
These findings may seem very counter intuitive given all the reports of coming out of the Pew Research and other survey research about patients "wanting more health information." There are after all at least 500 pages listed on Google of health websites recommending "questions to ask your doctor." But according to many studies on the subject, what people say they want (more health information) and what they actual do (engage in question-asking behavior) can be and usually is very different.
The low level of question-asking behavior exhibited by patients in the small study cited above study is not an isolated finding. According to Donald Cegala, PhD, Professor Emeritus of Communication and Family Medicine at Ohio State, who has written extensively on this subject, "the literature and my research experience suggests that most patients do not ask any questions, and those that do average about 2 questions (per visit). "
So what are the factors that explain why so few patients actively engage in question-asking? Are there strategies for getting patients more engaged in addressing this interesting challenge?
Stay tuned. I will be elaborating on these questions in future posts.
Steve Wilkins is a former hospital executive and consumer health behavior researcher who blogs at Mind The Gap.
Submit a guest post and be heard.