The patient-centered model of care is predicated among other things on physicians factoring in knowledge of the "person behind the patient" into their treatment. That's means understanding and, where practical, honoring the patient's beliefs, values and preferences. In order for a communication between a physician and person (patient) to be "patient centered," it must be congruent with patient preferences for how they want their physician to communicate with them.
So just how "patient centered" is social media?
Let's consider test result reporting to patients. If you are among the 5% of patients who (in very recent large-scale studies) indicate they want to receive normal test results by e-mail for example, e-mail results reporting is very patient-centered. Only 1% of patients prefer receiving abnormal test results via e-mail. Social media, e.g., e-mail, is not very patient-centered however if you among the other 95% of patients that prefer to be notified of normal and abnormal test results by telephone, snail mail, or in person visits with your doctor.
I understand that e-mail is not necessarily considered "social media" like Twitter, Facebook, or blogs, but it is the only "indicator" we have to date in the research literature. I also acknowledge that non-physician blogs and social networking sites such as PatientsLikeMe show great promise in building self care management skills, confidence and support among people with similar chronic disease conditions.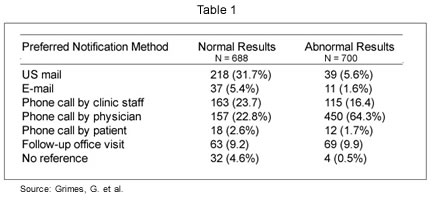 Implications?
This is not to say that physicians should avoid social media when communicating with patients. I am just saying that, according to the evidence, social media is not for everyone at this point. No doubt patient preferences involving social media will evolve with the development of new applications and privacy protections . . . but we are nowhere near that point yet.
From my vantage point, when it comes to communicating with patients, physicians' time would be much better spent by:
Learning what their patient preferences are (with regards to communications, medications, exercise, nutrition, etc.).
Tailoring conversations with patients during office visits to their preferences and concerns. The evidence shows that by doing, physician can more effectively engage patients, increase patient adherence, reduce cost and improve outcomes and satisfaction.
I have yet to see large scale studies that shows how social media can do that.
Steve Wilkins is a former hospital executive and consumer health behavior researcher who blogs at Mind The Gap.
Submit a guest post and be heard.