If you want to get insights into the problems of our health care system, look at a mural by Washington DC resident Regina Holliday.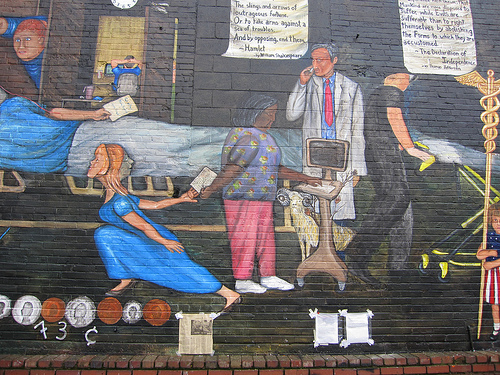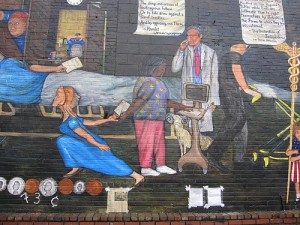 Holliday is a 37-year old mother of two and an art teacher. Last summer, her husband, Fred, died from kidney cancer at the age of 39. The Hollidays' experience is a case study in the ugliest, most festering problems of American health care. To share that horror story and to advocate for change, she began painting a portrait of a health care system that is fragmented and insensitive. It is a system where caregivers like Regina have to unfairly shoulder many bureaucratic burdens and one that needs to treat people better than the way it did her husband.
The Death of Fred Holliday
Regina stated her story by telling me about what happened to her husband. Fred Holliday developed the early symptoms of his disease-fatigue, weight loss and occasional blood in his urine-before he had health insurance. In late 2008, his insurance kicked in after he got a job at American University teaching film studies. Last January, he developed low back pain. He went to see his doctor multiple times. Each time, she prescribed pain medication, but his pain worsened. Regina wondered: if Fred just had muscle pain, then why the night sweats? Why the blood tinged urine? Why didn't his clothes fit him anymore? Still, Fred's doctor didn't reconsider her diagnosis and treatment.
His pain worsened. In March, Regina demanded more. Fred's doctor ordered an MRI of his back. Three days later, they got a call telling them that he had "shadowing over his kidneys." What that meant wasn't entirely clear, but the next thing Fred and Regina knew, they were in the office of a Maryland oncologist, who admitted them to Holy Cross Hospital in Silver Spring for further tests.
On Friday, March 27 around 11 am, Regina was at work when Fred called. He was crying. "I think the doctor just told me I have cancer," he managed to tell her.
What exactly did the doctor say? Fred remembered being told that he had a growth on his kidneys. Regina rushed into see the doctor, but he had left town for the weekend. They had to wait until the next day before another doctor (not an oncologist) tried to clarify his diagnosis: it looked like he had stage IV metastatic renal cell carcinoma. That jumble of words didn't make any sense. Regina went onto the Internet. Wikipedia turned out to be more helpful than Fred's doctors.
When their oncologist returned, he was curt and often distracted by his cell phone. He didn't like Regina's detailed questions, telling Fred that, "If Miss type-A personality wants me to answer her questions, she can come to my office hours."
In retrospect, Regina believes that if Fred's doctor had been clear about his prognosis from the beginning, he may have made the decision to stop fighting sooner. Instead, he informed him of how he could fight: surgeries, radiation, and chemotherapy. So he decided he needed more advanced care than what Holy Cross could provide.
Patient transfers between hospitals are normally the responsibility of doctors who work there. Holy Cross doctors, however, told her they had not been able to find another center willing to accept him. So Regina contacted her own internist, who sat on the board of directors at Suburban Hospital in Bethesda. After hearing Fred's story, he pulled strings and arranged a transfer.
The Hollidays arrived at Suburban four weeks after Fred's diagnosis. The first thing they learned was that he needed surgery to repair a broken hip-which happened after an orderly at Holy Cross bumped him into a wall while he was moving Fred on a gurney. Fred had been complaining of severe hip pain for two weeks, but nobody at Holy Cross had followed up on it. All it would have taken was the x-ray he got when he came to Suburban.
After surgery, his new oncologist ordered a chemotherapy drug called Sutent. While his health insurer approved the drug, Fred's doctor told Regina that the pharmacy refused to order it. At $40,000 for a 28 day supply, it was too expensive. "Sometimes this happens," Fred's doctor told her. So Regina had the drug mailed home, picked it up, tucked it safely into a fanny pack, and dispensed a dose to her husband each day.
Fred's cancer advanced. He still couldn't walk. He had become incontinent. The doctors decided to transfer him to a rehabilitation center with the goal of getting him to walk again. Once he was there, Regina's duties as his caregiver intensified. She learned where the center's storage closets were so she could collect fresh sheets and change them herself. She emptied his trash, and changed and disposed of his bedpans.
While he was in the hospital, Fred required blood transfusions every 10-14 days. Regina knew when he needed them because he would begin to get very tired, eat, move, and talk less. One afternoon, this is just what happened. At Surburban Hospital, it was easy to ask the nurse to get a blood test to know just how low his counts were. In the rehab center, they only did blood tests once every morning, no exceptions. So Fred suffered until morning came and his test confirmed what he and Regina knew the day before.
Fred would have to be re-hospitalized. The nearest one was, literally, across the parking lot from where he was. But rules and regulations prevented an employee from wheeling him over on a gurney. So Regina picked up the phone and arranged for an ambulance to take him across that parking lot. To accomplish this, she had to beg the rehab staff there to provide her with the proper medical records so the hospital would take Fred.
Fred continued to deteriorate. It quickly became a question of how much longer to fight. On May 19th, he was moved to hospice care to get his pain under control and on June 11th, he went home. On June 17th, less than three months after he was diagnosed with cancer, Fred Holliday died at home. Ironically, this was the same day that the United States Senate began debating health care reform.

Turn onto Connecticut Ave, Not Pennsylvania Ave
These days you'll find Regina Holliday on NW Connecticut Ave, painting her mural on the side of a gas station across from a CVS Pharmacy and near Politics and Prose bookstore. It's called 73 Cents, named after the price patients have to pay to obtain copies of their medical records–$0.73 per page.
My colleague, Dr. Ted Eytan, recently took some photos of 73 Cents and posted them on Flickr. At the center of photo is Fred Holliday lying sick-a note in his hand that's telling Regina to "go after them" when he was at Holy Cross, after doctors wanted to send him home.
In front of Fred is Regina. She has two faces: the bright one of the caring, loving wife juxtaposed against the ashen one of the exhausted, frantic caregiver. She is secretly grabbing medical records from the nurse standing at his bedside. That nurse is looking at a blank computer screen, symbolic of a closed information loop of each hospital, which prevents doctors from sharing information freely. In contrast, a computer behind Fred in another room is being used by a nurse not to provide care, but rather to surf a social networking site, like Facebook.
In the far right corner of the mural sits a family friend, the one visitor who came to see Fred. The extra space between figures in the painting is something Holliday did on purpose-distance is a medical motif, be it strict visiting hours for family or the masks, gloves and gowns providers to prevent infections. Central to that theme is Fred's doctor, his first oncologist, who keeps physical distance as he stands near the foot, and not the head of the bed, and that cell phone glued to his ear. His cold countenance-which nurses who work with him tell Regina she got just right-captures is emotional distance as well.
Symbols abound in the picture-one that stands out is the little girl dressed in the Stars and Stripes holding the caduceus staff. Holliday told me that she represents the status quo and the fear of change-exemplified in the real work by angry town hall meetings and anti-reform rallies that demand we protect Medicare, yet rail against a government takeover of medicine.
73 Cents is compelling advocacy, the exact opposite of what we've seen from our leaders over on Pennsylvania Ave. Regina Holliday isn't sure whether her story and her mural will move the rudders in our National Debate over health care. She told me a few people have screamed at her over her art. She's also had many fans, including Howard Dean, who reportedly came over and admired it. Regina's work has also persuaded a few angry but more civil folks opposed to reform to look, think and chat with her. An eye-opening but civil dialogue about health care-now there's an accomplishment Regina Holliday should get credit for.
Rahul K. Parikh is a pediatrician and a writer.  He can be reached at his self-titled site, Dr. Rahul K. Parikh.