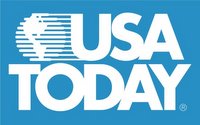 Welcome new readers, and thanks again to the USA Today for publishing my op-ed this morning: Wasted medical dollars.

Defensive medicine is a popular, if not polarizing, topic on this blog. The CBS Evening News paid attention to this issue last year, and hopefully my piece can continue to highlight this oft-ignored phenomenon.
I invite you to take a look around, and see what this blog is about. You can read my takes on current and relevant health care issues, as well as previous op-eds on the primary care crisis and Medicare payment cuts.
Disagree? Feel free to send me a reader take, or a letter that I can publish (anonymously if you wish) here on the blog.
Thanks for stopping by, and I appreciate your readership.